Spent Rs. 25,000 on sprucing up my 2016 KTM Duke 390: Here's why
During the ride home, I was astonished by the whole experience. Just by changing some parts, the bike transformed itself into it's former glory.
BHPian devilzzzown recently shared this with other enthusiasts.
I fell in love….again!!
Thanks to Doc, the one and only, ebonho. This post and more importantly, the restoration, would not have happened without me reading posts about how he brought back his D390 from hibernation. Thank you Doc!!
To start off with..
I welcomed my D390 back in 2016. I fell in love with it during the very first test ride, within the cramped interiors of Planet Bajaj, Wakdewadi (which is now Bajaj Brand View), unable to engage even the 2nd gear, I was unable to resist the pull. This was inspite of owing a P220 which hadn't even completed it's 10K Kms and ongoing emis on it. The itch to upgrade was so strong that I paid off the pending loan on the Pulsar 220 (with a penalty) by borrowing from dad and booked the D390.
D390 was booked, P220 was sold off and I began searching for a bank that would give me a loan.
Reason? I come from a Middle class family. I was working in a BPO post my Bachelors in Hotel Management. Barely enough salary left at the end of the month to eat out. My credit score was in tatters. No bank was willing to give me a loan. Against all logic, I went ahead with a personal loan of INR 1L from an NBFC. Using 2 credit cards and the residual amount from the sale of P220, I finally managed to scramble the On-Road cost of the bike.
There was no looking back after that. The next 4 year were a complete joy. By the time Covid hit, the bike had clocked close to 34K Kms. Most of Pune and the surrounding areas were explored on it.
Snapped near Thosegar with a friend's Benelli, circa 2019:
When the C19 disaster struck, the 390 was beginning to show it's age. It was always serviced every 7500 Kms at Sai Service KTM, Phugewadi. Things soon went into a downward spiral. Lockdowns were followed by more lockdowns and restrictions.
I had a stable job in Healthcare IT by then and my company went into 100% WFH mode.
The Katoom was reduced to a shell of it's former self over the next 3.5 years. During that period, I barely got out of my chair and the 390 rarely got to leave the parking.
Right before Covid, I had bought XUV 3OO and then last year I bought the Amaze. This meant the 390 was neglected even further. The customary weekly 2-3 Km rides to nearby shops were reduced to just starting the bike and leaving it to idle for 5 minutes. The bike was in pain. Things were falling apart due to the neglect and dis-use. The Front shocks were leaking. The rear shocker had given up. The cables were falling apart too. I had done just 1 Oil change at a FnG during the last 3.5 years. The bike ran just 500 Kms in that period.
And then ebonho's post happened
Doc's bringing back his beast from hibernation re-ignited the spark I had lost over time. So yesterday I reconnected with my SA and dropped off the bike for a detailed service. Whole lot of parts would need to be changed. All fluids would need to be drained and flushed. The SA asked for 2 days (due to the number of bikes already present, I didn't make an appointment) but I was pleasantly surprised when he called at 5 PM the same day saying the bike was ready. FYI, if you are at Sai Service KTM, Phugewadi, try to get Saurabh assigned. He's awesome. Also, I had expected a bill around 30K but it turned out to be much lesser.
The tyres were knackered too. So I picked up the bike and went straight to Darshan tyres, JM Road. Got the Michelin Pilots (Jan and Feb 23 DOM) and the bike is all set for a come-back. I am a sedate tourer most of the time so didn't want to shell out upwards of 25K with waiting period on better tyres. Now it's time for me to get fit and back on the saddle. 3.5 years of sedentary lifestyle and a lazy person is the worst combination. Not to mention, thoroughly restoring the lid and getting proper gear for riding.
Some snaps..
Rear boot: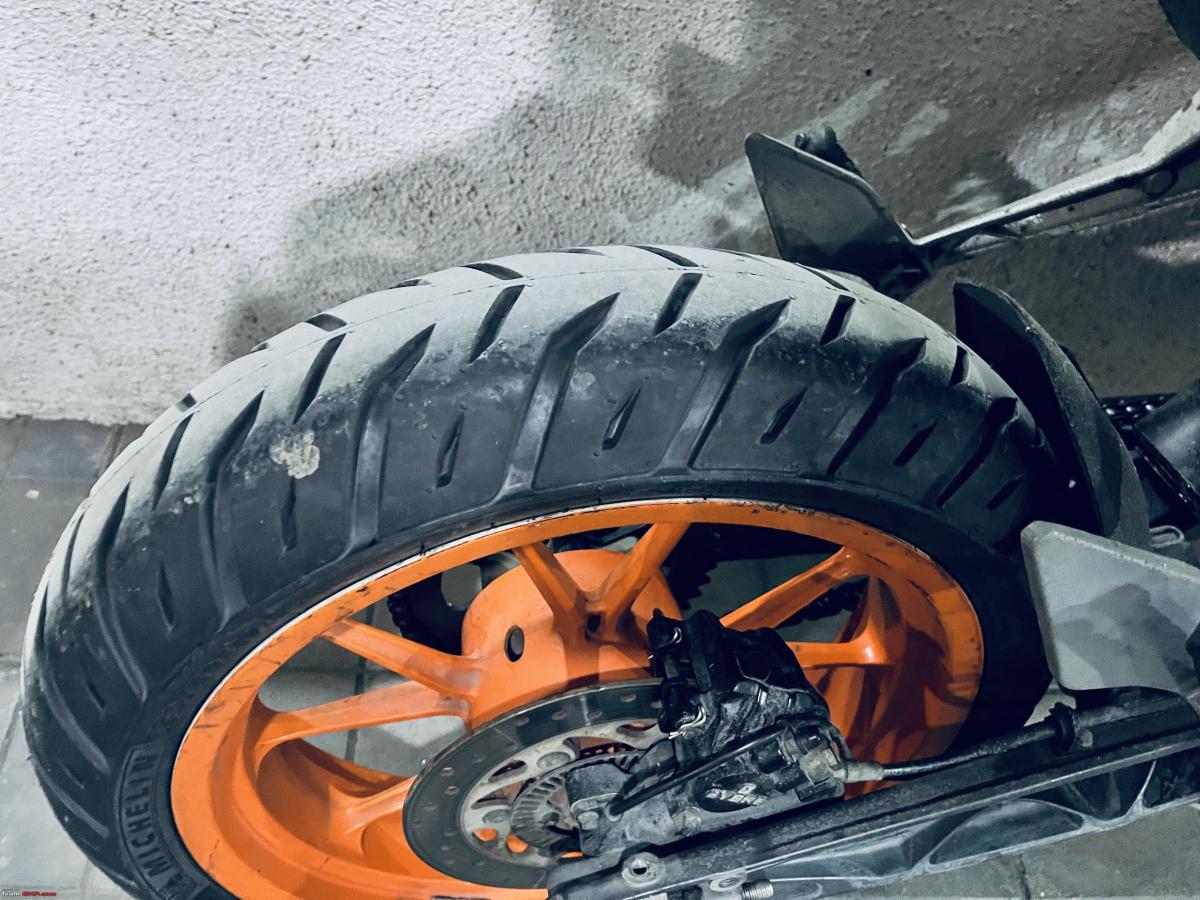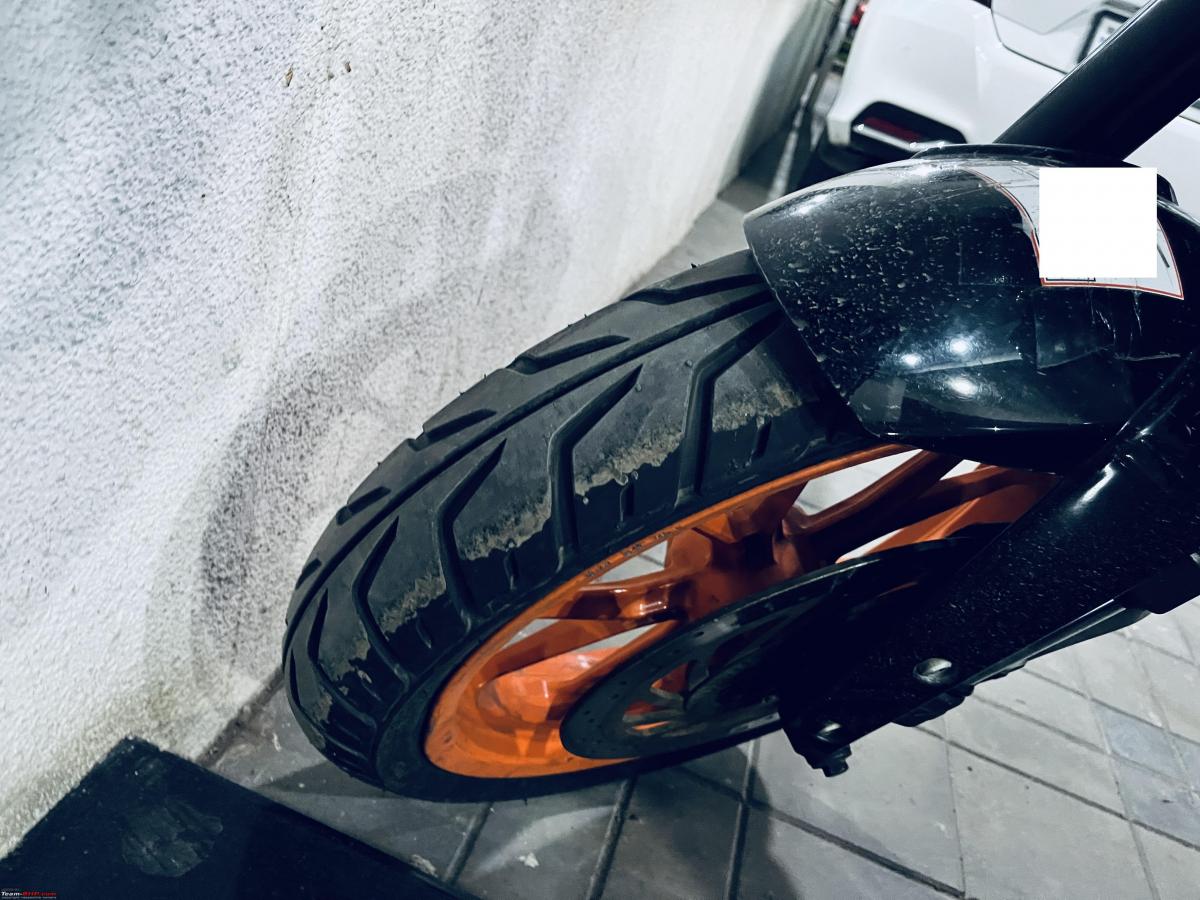 Rear view of the boot:
Darshan Tyres final Invoice:
Final Invoice for the restoration: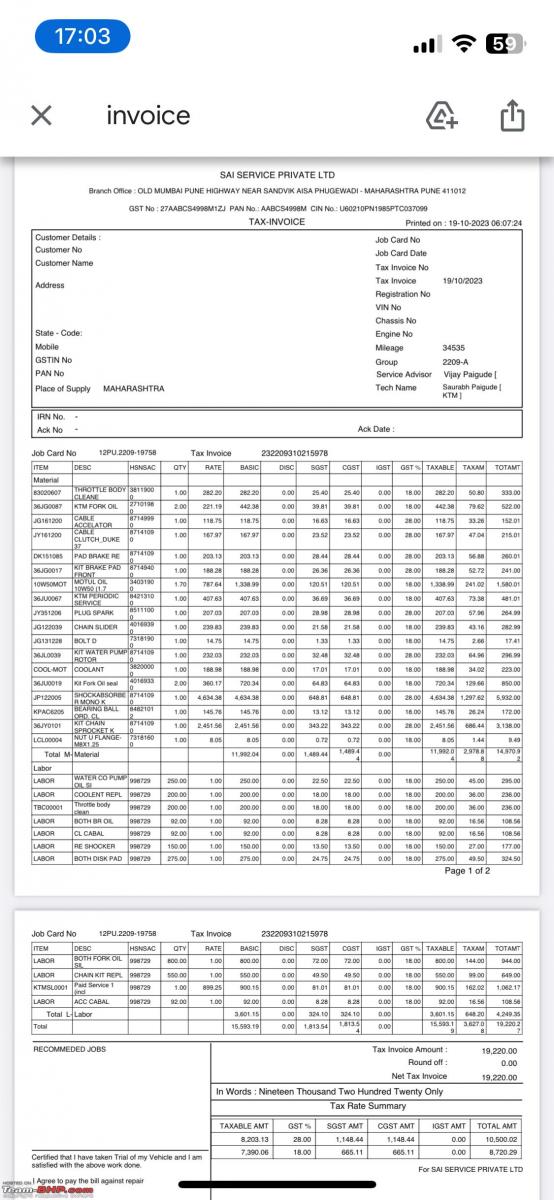 During the ride home, I was astonished by the whole experience. Just by changing some parts, the bike transformed itself into it's former glory. Powerful and Agile, the Scalpel name is appropriate for this bike. The wide grin on my face on my way home reminded me why I loved the D390 in the first place. And I fell in love with my D390 again.. I even vowed to her that I would never ignore her again and she rewarded me by showing 30 KMPL on the MID during the ride home.
Read BHPian comments for more insights and information.
Source: Read Full Article