New Nissan X-Trail 2022 review
The new Nissan X-Trail works well in the UK, but the efficiency of the clever e-Power set-up could be better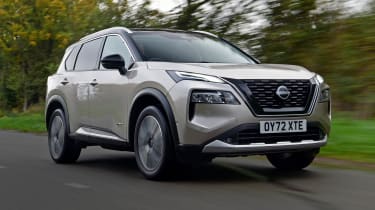 3.5 out of 5
Buy used for less at Buyacar
Verdict
A UK drive of the X-Trail e-4orce in a different trim grade doesn't drastically alter our opinion of it. It's practical, rides well enough on broken-up British tarmac and delivers the EV-like driving experience it's billed to, however, question marks remain over the efficiency of the set-up, and it's pricey in higher specs.
Over the last 20 or so years, the Nissan X-Trail has strayed further from its chunky,  utilitarian roots. The outgoing model was little more than a replacement for the Qashqai+, and at a glance didn't look a whole lot different to the second-generation version of that car.
Now, though, Nissan has sought to put a little more distance between the Qashqai and the X-Trail. Visually, the X-Trail certainly looks a lot more aggressive than its little brother thanks to sharp lines and an imposing fascia, even if it doesn't quite evoke memories of the boxy first-generation model. It's 20mm wider than before, and 15mm taller. 
Top 10 best large SUVs to buy 2022 / 2023

Inside, meanwhile, the X-Trail feels noticeably more spacious than a Qashqai, particularly in the rear, where there's an abundance of legroom and plenty of headroom. Normally you get 585 litres of boot space, which is 81 litres more than in a Qashqai, but notably smaller than in a Skoda Kodiaq, which offers 835 litres. Like the Skoda, boot space takes a 100-litre hit when speccing seven seats, and a lot more than that if anyone sits in them. This is a £1,000 option, which is not available on front-wheel drive e-Power models. 

More reviews

Car group tests

Nissan X-Trail vs Hyundai Santa Fe

In-depth reviews

Road tests

New Nissan X-Trail 2017 facelift review
Nissan X-Trail 2.0 diesel 2017 review
Nissan X-Trail 1.6 DIG-T review
New Nissan X-Trail 2014 review
Nissan X-Trail Tekna diesel review

Used car tests

Used Nissan X-Trail review

The dashboard seems little different to the Qashqai's, which is both a good and a bad thing. The quality is mostly good, but the design feels old-fashioned due to the arrival of the Ariya and its more futuristic cabin. You do, at least, get physical climate controls here. A little further up the range is a 12.3-inch infotainment system (with an eight-inch unit on models further down the pecking order), which is easy to navigate and looks crisp, but could do with being a little more responsive. It's flanked by an equally good-looking 12.3-inch digital instrument cluster which provides heaps of easily-accessibly information. You can even reset individual elements on the trip computer like average speed or fuel economy. 

We tested the 'e-4orce' four-wheel drive version of the X-Trail e-Power, which comes with an unusual powertrain set-up. Like all fourth-generation X-Trail models, the main power source here is a 1.5-litre 'VC Turbo' inline three-cylinder engine, which replaces traditional connecting rods with a multilink system. This allows the engine to adopt different compression ratios depending on the driving situation for a better balance of performance/efficiency – for instance, lower compression for more gentle throttle inputs. 

In e-Power models, this engine is used to charge a battery pack, much like in a series hybrid car, except here, it never directly powers the wheels. So the X-Trail e-Power is a little like a range-extender EV, except the battery is much smaller at 2.1kWh, and you can't plug it in.

The battery feeds a 201bhp electric motor for the front axle, which in e-4orce models is joined by a 134bhp rear motor. We should temper any excitement at the prospect of a 300bhp+ X-Trail, though, as the two combine for a more modest total system output of 211bhp.

The benefits of the dual-motor arrangement are more to do with traction both on and off-road, with Nissan claiming it's able to respond 10,000 times faster than a mechanical four-wheel drive system. The X-Trail certainly seems to have no issue delivering its 211bhp in both wet and dry conditions. We did at one point manage to get the tiniest hint of rear-end movement from the SUV, but for the most part, it's neutral, leaning towards understeer on the limit. 

The steering offers precious little feedback, but there's a good weight to it, and we've no complaints about the speed of the rack. There's a reasonable amount of body roll, but nothing excessive. That's just fine by us – this is not a particularly exciting car to drive, so it'd make little sense to firm up the suspension. 

As it stands, the X-Trail rides comfortably often-rough UK roads, even if there is a hint of choppiness through the suspension on particularly broken-up surfaces. Refinement is impressive, too, with wind and engine noise kept to a minimum when cruising. This is helped by the nature of the e-Power drivetrain, which is intended to offer an EV-like driving experience with the convenience of a combustion-powered or traditional hybrid car. 

It mostly fulfils this brief. The X-Trail sets off smoothly and provides linear acceleration, and there is an EV mode, although this will disengage even under even moderate acceleration. There's also an 'e-Pedal Step' mode which allows for mostly one-pedal driving, although the brake pedal is needed to bring the car to a complete stop.

The benefit over a full or plug-in hybrid powertrain with a gearbox is there's no awkward 'juggling' of power sources as can sometimes be experienced in such cars – the motors merely get on with the job, and the engine switches on and off as necessary. Often, you don't notice when the engine fires up, although it does become much more vocal when the X-Trail is accelerating, with a response akin to a CVT-equipped car. It can sound a little strained at higher revs, although the inline-three never sits there for long. 

Floor it, and the X-Trail will dispatch 0-62mph in 7.2 seconds, which sounds reasonable enough, but it feels swift rather than fast even under full throttle. And on the subject of numbers, the X-Trail e-4orce gets an official economy figure of 42.2mpg, more than 10mpg down on the Qashqai e-Power. We'd hope for more, and it's worth noting we were a long way off that number in our test, averaging around 36mpg. We'll be keeping a close eye on the X-Trail's economy in future tests, as it may well perform better if more urban miles are in the mix. 

While the X-Trail range starts at a reasonable-sounding £32,030, it gets expensive near the top. For a seven-seater Tekna e-4orce, you're looking at £45,485. Over the N-Connecta grade – which is expected to be equally as popular – Tekna get a 10.8-inch head-up display, 19-inch wheels, a wireless charger, a glass roof, a powered tailgate and Nissan's ProPilot driver assistance set-up. The much cheaper N-Connecta is still very well-equipped, however, and looks the better choice, especially as you still get the larger infotainment system and the slick digital cockpit.

| | |
| --- | --- |
| Model: | Nissan X-Trail Tekna e-4orce |
| Price: | £45,485 |
| Engine: | 1.5-litre turbocharged three-cylinder + 2x e-motor |
| Transmission: | Single-speed automatic |
| Power/torque: | 210bhp/N/A |
| 0-62mph: | 7.2 seconds |
| Top speed: | 111mph |
| Economy/Efficiency: | 43.8mpg/148g/km |
| On sale: | Now |

Source: Read Full Article