New Ford Focus ST Track Pack 2023 review
The new suspension, brakes and wheels of the Track Pack transform Ford's feisty Focus ST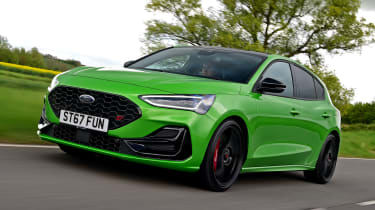 4.5 out of 5
Buy used for less at Buyacar
Verdict
The fourth generation Ford Focus ST isn't the perfect hot hatchback, but the new Track Pack does wonders for its ride and handling. Combined with all Focus's mid-life updates, the ST Track Pack makes a compelling C-segment hot hatch prospect, even if it lacks the ultimate ability of the Civic Type R. It's worth remembering that the ST Track Pack also represents one of the final chapters of Ford's hot hatchback dynasty, making it a significant car even beyond its sheer capability.
The Ford Focus ST has always had something of an awkward existence. Typically designed to sit underneath a more aggressive RS, they've always felt a little undernourished, something that applied to the current generation despite it never having an RS above. This is something that Ford Performance finally looks to have addressed, however, as not long after a mid-life update there's now a new Track Pack on offer for the ST.
Priced at £3,000, the Track Pack bundles a combination of chassis and styling upgrades that sound like good value given their considerable impact. The tweaks include a new set of 19-inch flow-formed wheels that are 10 per cent lighter than the standard offerings, wrapped in a set of Pirelli P Zero rubber instead of the standard car's Michelins. Behind these sit a pair of red-painted Brembo four-piston calipers on the front axle, gripping discs that are 10 per cent larger than standard at 343mm. 
Top 10 best hot hatchbacks to buy 2023

The electronically-adjustable dampers fitted to all UK-spec STs have been ditched for a set of new coilovers from KW. If you like to get really nerdy about your suspension systems, the dampers are manually adjustable for compression and rebound, as well as ride height, which itself is set at 10mm lower than the standard ST. Ford also paints the roof, front and rear bumper inserts, mirror caps and those new wheels in gloss black that, together with the new suspension geometry, gives the ST a much more aggressive look. Semantics, you might think, but it makes a world of difference when you see it in the metal. 

More reviews

Car group tests

The best long-term car tests 2022
Vauxhall Astra vs Ford Focus vs Volkswagen Golf: 2022 group test review

In-depth reviews

Ford Focus review
Ford Focus ST review
Ford Focus Estate review

Long-term tests

Ford Focus Active Estate: long-term test review

The ST Track Pack's remaining technical elements are otherwise unchanged, so it features the same 2.3-litre turbocharged four-cylinder engine matched to a six-speed manual transmission. Power is rated at 276bhp and torque at a very impressive 420Nm, which is sent to the front wheels via a limited slip differential. The Track Pack is only able to be specified on the manual Focus ST hatchback, so there's no estate or automatic option. Performance is impressive, if not groundbreaking, hitting 62mph in 5.7sec, and going on to a 155mph top speed. Fuel economy is rated at around 33mpg – a figure we found to be just about achievable in normal day-to-day driving. 

Jump into the refreshed cabin, witness the massive new infotainment screen mounted precariously on its dash-top perch and things all look and feel the same as in the base ST, but it only takes 50 metres before you realise this is a very different beast. The ride is instantly firm, with an uncompromising solidity that translates right up through the seat base, but unlike the standard ST, the Track Pack's high-end dampers never crash into potholes, it merely thumps over them. Raise your speed and the ride improves massively, at which rate the increased body control also becomes apparent. 

The brakes are also now a particular highlight, with impressive pedal feel and extremely good bite. With more confidence in the pedal, you can start to use it to modulate the car's balance. The lighter wheels and more aggressive suspension tune are also felt in the steering, but the ST's ultra-fast steering ratio still feels a little out of place here, and isn't as accurate or responsive as the setups in some of the ST's rivals. 

Overall, though, the new ST Track Pack drives with so much more control and composure that it finds itself right in among rivals at the top of the class. While the chassis is now much improved, however, the engine and transmission remain as weak points in the overall package. The engine isn't particularly responsive, and it feels almost as if Ford's engineers have compensated for the slow responses with a very aggressive throttle map, especially in its Sports and Track modes. 

It's also not an engine that particularly likes to rev, as after the initial explosion of torque it runs out of puff around 2,500rpm shy of its redline. As a result, there's just no need to run the engine right out to its maximum revs, and you find yourself relying on the mid-range. The transmission is also a little bit vague, but the fact there's a manual option at all is still worth celebrating. 

Despite the rough edges, the Ford Focus ST Track Pack does one more crucial thing right, and that's to feel authentically like an old school hot hatchback. Similar to the Hyundai i30 N, the Ford's personality shines brightly, and while it may lack the ultimate precision of a Honda Civic Type R, that car has evolved so far beyond a typical hot hatch it would almost be unfair to compare the two. That's even before we get to the near-£10,000 price gulf between them. 

What the Ford does is drive, feel and sound like a hot hatchback of a golden era and that, for many, should be all the reason needed to buy it. As Ford leans ever more into its electric future here in Europe, a hot hatchback with a blue oval on the nose will soon be a seriously endangered species. So to those who want not just a very good hot hatchback, but also a final fast Ford hurrah, it might be the time to grab one before it's too late.

| | |
| --- | --- |
| Model: | Ford Focus ST Track Pack |
| Price: | £39,950 (inc £3,000 Track Pack) |
| Engine: | 2.3-litre turbo, four-cylinder petrol |
| Power/torque: | 276bhp/420Nm |
| Transmission: | Six speed manual, front wheel drive |
| 0-62mph: | 5.7 seconds |
| Top speed: | 155mph |
| Economy/CO2: | 23mpg/179g/km |
| On sale: | Now |

Source: Read Full Article