"Most Brits are not in favour of ULEZ"
With so much uncertainty to come, Mike Rutherford thinks you should exercise caution if you're about to buy a new car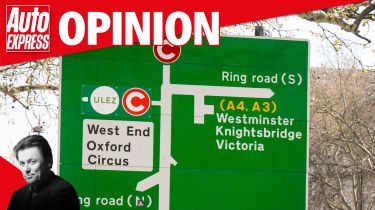 Still agonising over whether your next car should be new or used, bought or leased, petrol, diesel, LPG, hybrid, electric or hydrogen powered?
Then good on you. Like never before, research all the standing and running charges, tax, insurance, depreciation and other often forgotten costs. Don't apologise for delaying. Instead, congratulate yourself for exercising extreme caution in this uncertain period. Genuinely, it's an era when cars, motoring, the price of driving, and the future and liberty of drivers and their passengers have more question marks over them than at any time in living memory.
"Sadiq Khan's ULEZ expansion is the greediest ruse I've ever seen a politician put their name to"
Yet some motorists still choose vehicles that are wrong for their financial health; wrong for the roads and conditions they experience daily; wrong in the eyes of money-grabbing politicians keen to financially shaft them for alleged 'crimes' of driving the wrong cars at the wrong times on the wrong streets.
So how can drivers begin to get more things right as they continue to wait for new tech over old tech, price differences to narrow, and public EV charging issues to be properly addressed (all while hoping for motorist-loathing politicians to be voted out)?
First, perhaps consider sticking with the car you've got. If it's safe, got life in it and costs next to nothing to run, it might tide you over until the dust settles. And if it's an ageing petrol car, it may surprise you by complying with those cynical political-cum-ecomental schemes and scams designed to fleece motorists via barely legal daily fees, fines and more.
On that last point, there's now irrefutable evidence that the overwhelming majority are not in favour of the ultra-low-emission zones due to be rolled out in London and other parts of South East England. Also clear is that the Post Office, at least one supermarket bank and the AA are offering car loans at 5 per cent APR or less – almost half the rate many manufacturers and dealers charge. Another consumer-unfriendly development in the last few days is that "the median new car recommended retail price" has gone through the psychologically damaging £40,000 barrier. According to Auto Trader, it now stands at £40,291 – far more than the average annual wage for a full-time worker in Britain.
Talking of British workers, they don't come more real-world, talented and impressive than Linda Jackson, who's achieved the near impossible by rising from Midlands accounts clerk to Brand CEO at Peugeot's HQ in Paris. She recognises and is facing up to the obvious problem of high prices. "At Peugeot, what's at stake is making EVs more accessible. That means innovation to make our cars affordable to produce, buy and own," she says.
That's not idle spiel from Britain's most successful woman on the automotive stage. She's already played her part in introducing the circa-150 Euros (£130) a month e-208 'As You Go' subscription deal in France. Some 500 kilometres (311 miles) are included, with fair charges of around 7 cents per km (6p a mile) if customers wish to drive more.
The obvious question, then: can we please have a similar deal at a similar monthly price in your native Britain? Your country needs you, Linda. 
Do you agree with Mike? Let us know your thoughts in the comments section…
Source: Read Full Article