How 3 incidents in 3 days with my BMW M340i forced me to buy a Tiago EV
The M340i will still be used adequately on on-off office drives and long trips.
BHPian krishnadevjs recently shared this with other enthusiasts.
It's been quite a while since I updated this thread. Work and a series of unfortunate incidents prevented me from doing so.
Anyway, today marks 100 days since the M340i came to me. The odometer stands at 7000 km, the bulk of them on highway drives.
April, however, was a bad month for me, primarily owing to 3 unfortunate incidents that occurred.
Incident 1
We had gone to Phoenix Market City in Kurla and were coming back home via the LBS Marg, on the right lane.
The BEST bus, out of nowhere, decided to swerve into our lane. And despite pressing that horn to oblivion, he scraped against my left ORVM.
Even more infuriating was the fact that he just continued as if nothing happened.
I did catch up with the bus and forced it to stop. Confronted the driver, along with a few policemen who were behind me and witness to the incident. Eventually, the policemen asked him to call for a replacement bus, to get the passengers off, and take the vehicle to the station.
Considering the inconvenience to all those passengers, and the fact that despite all this, the end result would be my insurance paying for the damage, I decided to let it be and left the bus driver off with an apology.

Incident 2
The very next day, I took the car to Navnit Motors workshop in Thane, in hopes of getting the spare quickly and repairing this.
But, at the turning towards the service centre, I was stopped and waiting for a car ahead to cross me and take a right. And then, BAM! An idiot in a Honda City rams into my left rear.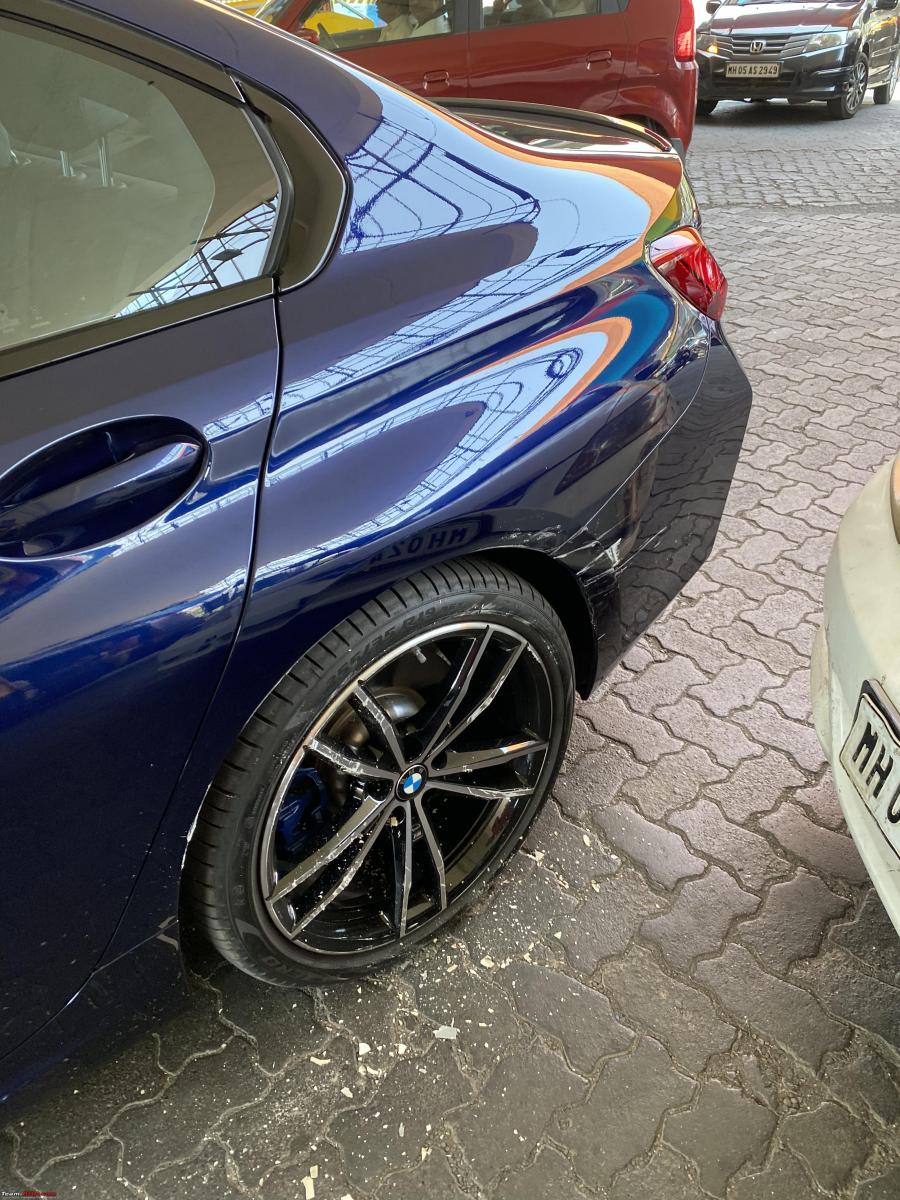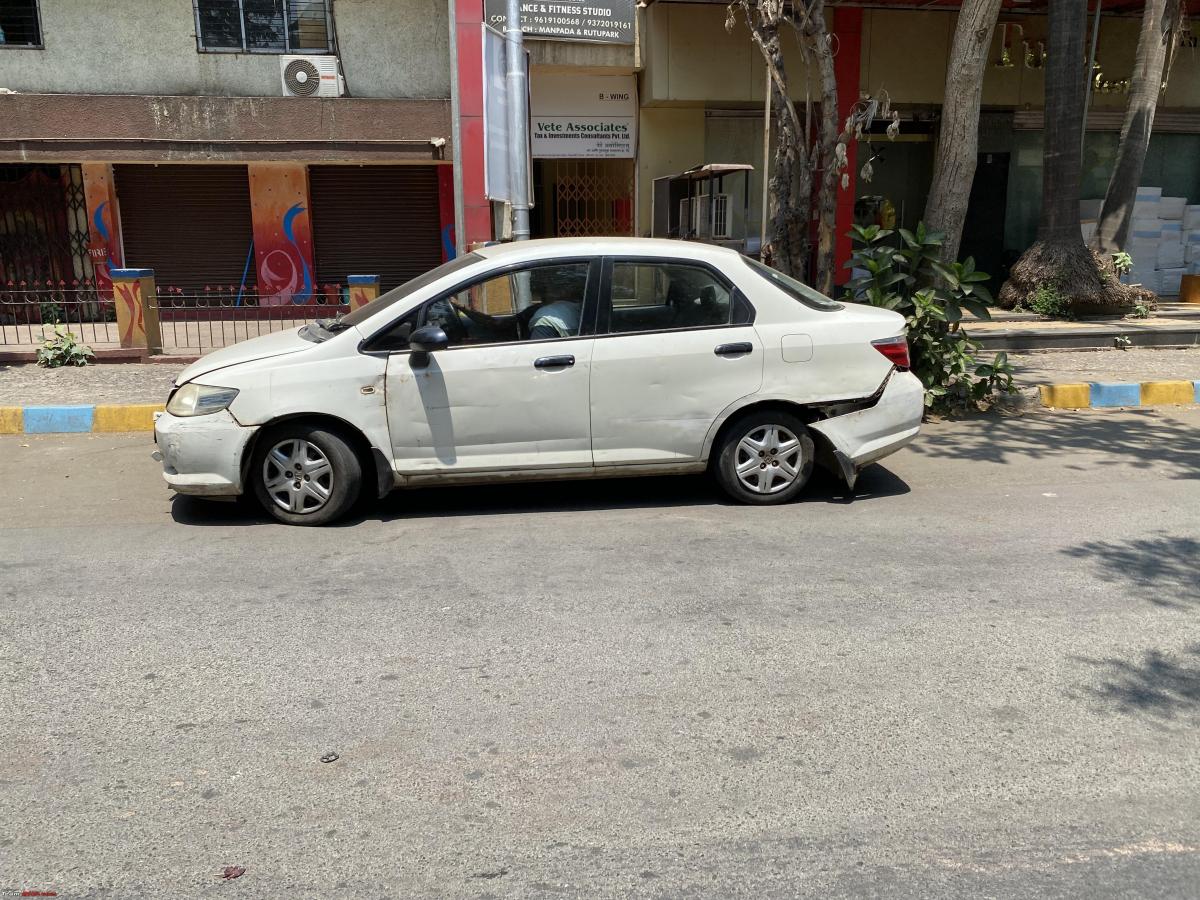 By the looks of it, bumping into others wasn't something new for this guy. The City was so banged up, I was surprised it was determined to be road worthy.
Despite me being stopped, and him banging into my rear, the driver maintained it was my mistake because he had honked. He further asserted his driving superiority by saying, "I've not hit a single car in all my driving days." Later, I came to know he had been driving for all of 20 days!!
This time, I anyway got the cops involved, who rode with him to the station and asked me to follow. On the way to the station, the City bumped into another auto rickshaw. This made my case quite easy, as the police now had a first-hand view of his 'driving skills'.
The SI asked me what damage I'm looking at. I spoke to Amol ji from Optimum Detailerz (where I had got my PPF done) and he asked me to immediately head over. So, while the police detained the other party, I went to Optimum and Amolji quickly worked his magic.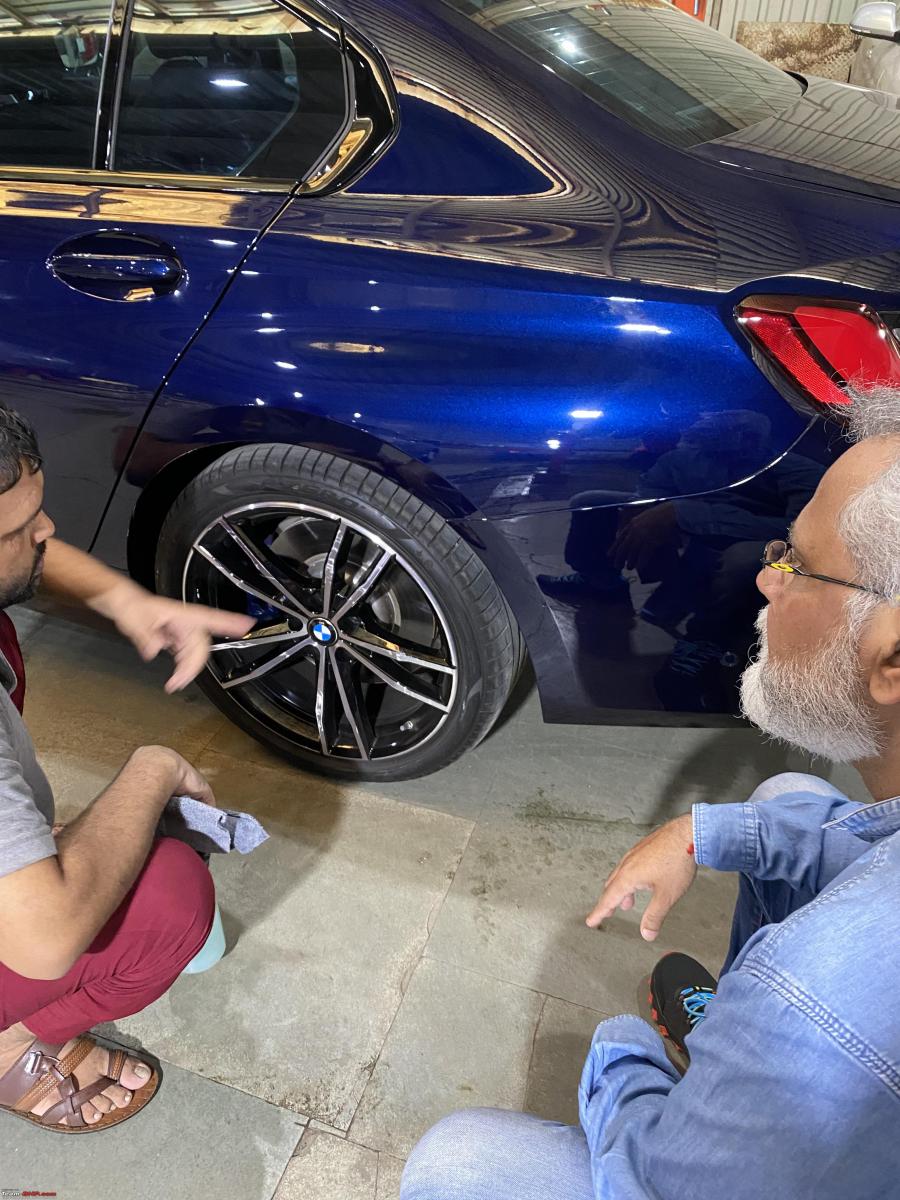 A few minutes later, there was hardly any indication of the incident from earlier. Even the alloys were back to mint condition. Thankfully, the PPF took all the impact. Even though there is slight tearing of the PPF in some spots, that's something I can live with instead of redoing the entire panel for ₹40k.
Called up the police station and informed them of the situation, and asked them to let the other guy go.
Incident 3
NEXT DAY, I'm going to the office on my daily regular route. Out of nowhere, there's an uneven tar formation on the Eastern Express Highway near that Chembur signal and my front right tyre goes over it. I immediately knew this was sidewall damage.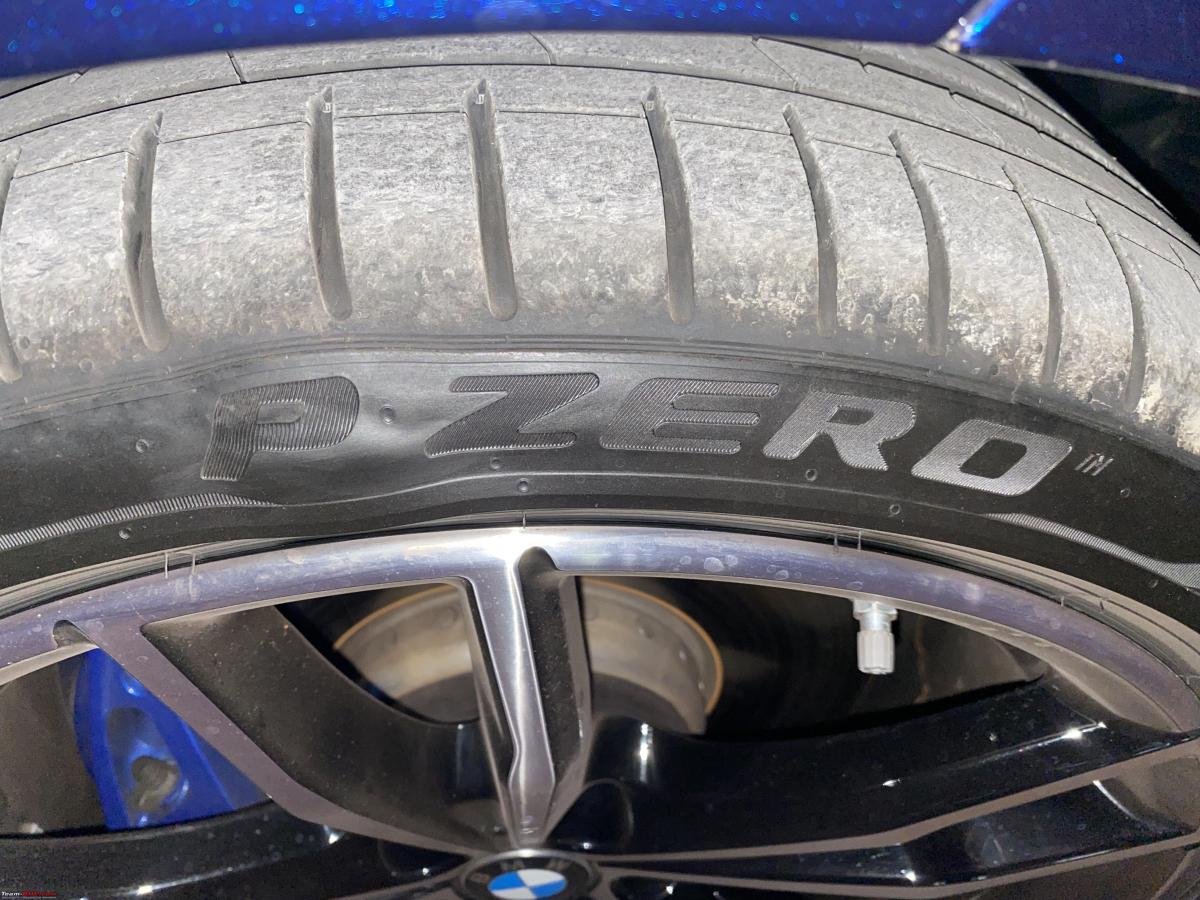 Luckily, for me, this was on Day 88 of my ownership. BMW Advance Secure covers 100% of tyre cost within 90 days. And so, I got this tyre replaced, for just ₹2000.
The tyre itself wasn't available and Infinity had to source one from the open market. It's a MOE tyre though (The Mercedes equivalent of the Star mark) but I'm guessing it shouldn't impact performance much given the ratings are basically the same.
3 incidents in 3 days shook me badly, and I re-contemplated the decision to use the M340i as a daily driver. And so, I went ahead and booked this:
It should be good enough for intra-city commutes and the daily office drive. The M340i could be the one-off drive to the office and long trips.
Given I've covered 7,000 km in 100 days, I guess despite having the Tiago, I'll easily 'use' the M340i adequately.
While the Tiago was readily available, we chose to take delivery by June, since we were going to be out of town for all of May.
Bad news aside, April end also brought with it, my much-awaited road trip to Kerala!
Packed off the wife and kids to Bangalore, and onward later to Kochi via flight, got my brother in from Bangalore and we were all ready for the drive.
We left at 5 am but were caught in the long weekend traffic on the Pune Expressway. Lost almost 45 minutes stuck in traffic, and even after crossing Pune, there was heavy traffic on the road.
Not only could we not cover the distance, courtesy of the traffic, but fuel economy too was seriously hit.
Add to that the fact that once the Low Fuel indicator came up, we couldn't find a single IOCL pump for almost 70km!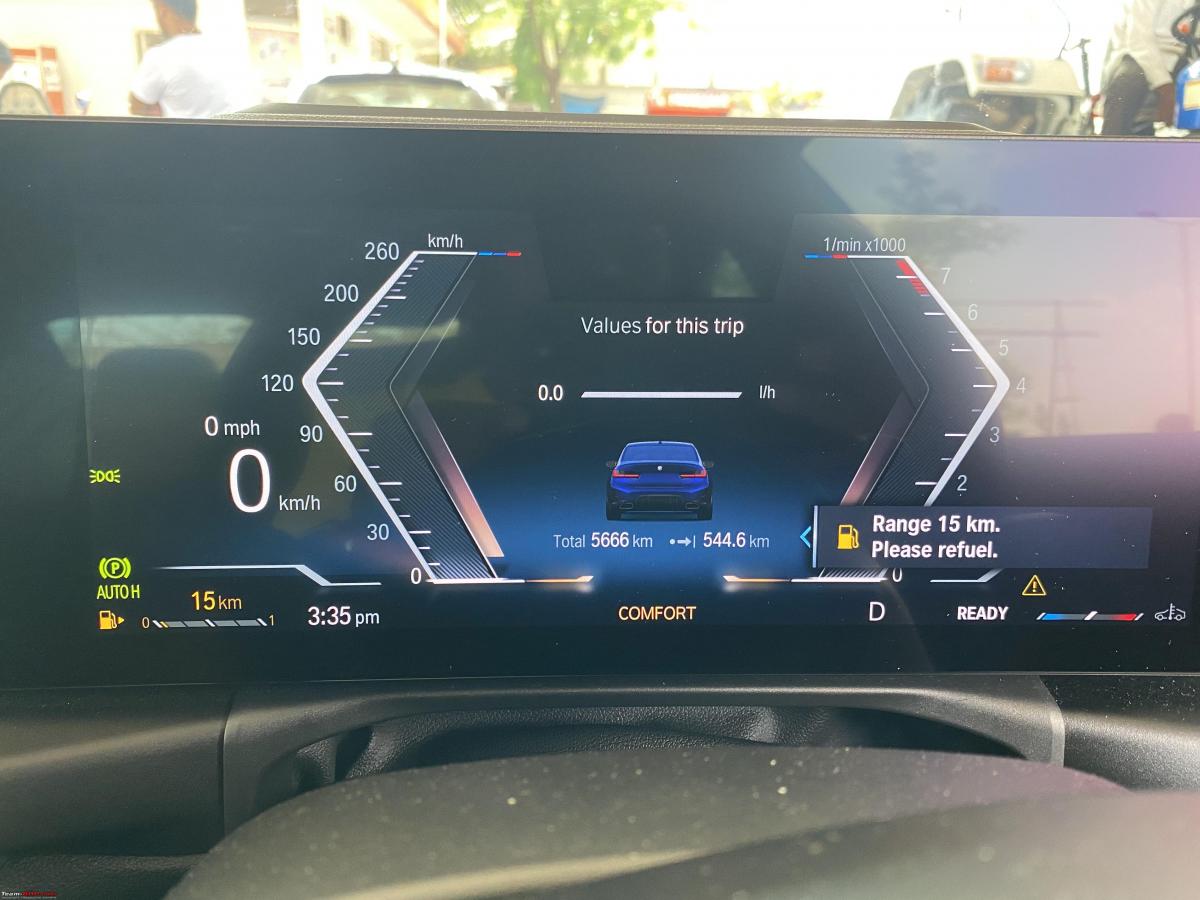 As you can see from the pic, we covered 550 km in 10.5 hours – about 50 km/h average speed. This is in contrast to our earlier Bangalore drive, where we got an average speed of 95kmph.
Traffic did improve once we entered Karnataka. The roads were also really smooth. This was M340i's native environment.
We really enjoyed the drive in Karnataka and were able to make up some time.
My wife and kids, who were now in Bangalore with her brother, came over to see us. We had dinner together and they went back, leaving us to rest and power up for the drive the next day.
Day 2 started at 5:30 AM, with us making an early exit out of Bangalore before traffic could hold us up.
This day was really fun, and the roads were open, wide and smooth. Tamil Nadu truly has some of the best, smoothest, most beautiful highways in the country. I've always enjoyed driving in TN, but this time was special, courtesy of the beast I was driving.
We were crossing districts quicker than we could count – Krishnagiri – Salem – Dindigul – Madurai – Tirunelveli.
The smile on his face tells you the story.
His review: "This is easily the best driving experience I've had. I never understood when you said it drives brilliantly, but now I get it. You don't really care for the comfort of the back seat passengers when you're driving this. The car just does what you think. And you also get super agitated at others on the road, trudging along slowly on the rightmost lane. This car is just insane."
Some navigating through Nagercoil's narrow roads filled with traffic, along with showers welcoming us, saw us through to the ever-enchanting God's own Country!
We got into another traffic jam near Balaramapuram, but thankfully that was the last of it. 4 lane roads all the way from there, made it easy to get home quickly.
Finally, around 4 PM, we were home. Around 10.5 hours for 800km, an average of 76 km/h with a mileage of 10.2 km/l.
Overall, the M340i performed amazingly during this drive. I feel this car is meant to be driven on open roads and used for such long road trips – not tied up in the garage or driven around in the city.
Within Trivandrum, this car has never failed to make head turns. Firstly, it's a really handsome vehicle, in an amazing shade. Secondly, if you don't see it, you surely hear it with its roar, pops and gurgles.
After buying this, I see my own lifestyle changing – I'm making more road trips, simply because this car makes me want to do that. And I'm absolutely enjoying this.
Over the next few weeks, I have quite a few road trips: Trivandrum to Kochi, Kochi to Guruvayur (for my 2nd one's choroonu) and back from Guruvayur to Kochi and Kochi to Trivandrum. By month's end, it's back from Trivandrum to Mumbai. So, by the 4th month of ownership, I'd probably end up at 10k km in this amazing machine.
Check out BHPian comments for more insights and information.
Source: Read Full Article