Got my 2023 Kia Seltos: First thoughts on exterior, interior & driving
Suspension is overall better than my Ecosport. No surprises here.
BHPian Chugh_H recently shared this with other enthusiasts.
I had initially booked the HTX+, but then moved my booking to GTX+ after price announcement. Our case could not be any different; I love the black interiors of the GTX+ and my wife too appreciates the color scheme, although she never had a chance to experience other variants. Note that we were using a 2018 Ecosport until a few months ago and had absolutely no issues with it's black interiors too which many people do not like. I'll share my views about ADAS below but I believe that it would suit to only three kinds;
Drivers who are the top 5% disciplined ones in India; who maintain ~7-10 second distance at all times. Or use their car primarily for calm expressway drives.
People who are early tech adopters; those who are keen to experience it and don't mind paying extra.
People who are likely to assume that they could've used ADAS in a situation; I am sure this thought would flip once they actually have access to ADAS in India (at least in the format KIA / Hyundai is offering it). If you think you'd always be regretting a car without ADAS because 'today was the right time', spend the extra bucks.
On auto-hold and EPB, I'd say that I never had an issue holding brakes or pulling the handbrake lever until now. But I'd like to not go back. 360 camera is a genuinely good feature in my books, and I really appreciate how you get the camera feed on cluster when you switch on either indicator. The cameras have a larger coverage area than ORVMs.
I have now completed close to 1K kms on my car and have been wanting to share my experience so far. I'll draw comparisons to Ecosport.
Exteriors:
Subjective topic, but I think most of the people will not dislike the way this car looks. To me, especially in black, it is one of the best styled cars in this price range. A close second to me would be a lowered & blacked-out Virtus.
I always appreciate the way Kia has designed the headlights. They look absolutely crazy to me, in all states – be it DRL on or headlights on.
The indicators are sweeping types, the sweep is clean and not like how you'd see in some aftermarket blinkers.
While the headlights look great, they are average at best. When it rains, some may take a moment to realise if they are switched on or not (more so when fogs are off).
Even the GT line gets chrome grill. I do not like it at all. When I consulted Anish from 5c car care in Gurgaon (also a team-bhpian), he suggested I'd rather get a new part which comes in black from factory than getting this wrapped if I do not want any maintenance trips. I do not want maintenance trips, so I checked the prices to consider if I'd like to get the grill replaced from an X-line. While the grill part is easy, the parts store at Allied Kia could not figure out if the chrome above headlight is a child part or not. If it's not a child part, it's too expensive to get this done for me. So I left it at that. I'll followup on this again when time permits.
The front also houses the camera and the radar. The differently styled bumpers are not loud in black color. In lighter colors, the painted bumper inserts stand out.
Inner rim of every wheel is also painted black as far as you can see. And then maybe even more.
There's twin exhaust on the 1.5T GTX+. I don't know if they sound different from HTX+, but any music they probably make is overshadowed by the engine noise at higher RPMs.
Connected tail lights look classy IMO. I had a chance to follow my own car for a few KMs and liked how the car looks overall.
With help from Anish from 5C car care, the car is ceramic coated almost everywhere that's painted. All windows, front and rear windshields, sunroof and even ORVMs are also coated. Good luck disturbing my mental balance now, you pigeons!
Front view. The painted inserts on the bumper do not stand out in this color as much as they do in White or Silver:
Sweet headlights. Kia did pay attention to styling. While they look great, they aren't great on performance. A good part of my experience with the car has been in rainy season, so this could very well be an impression you'd not agree with when you use them:
Sweet alloys too, but unlikely to be recalled by anyone when discussing their favorite ones: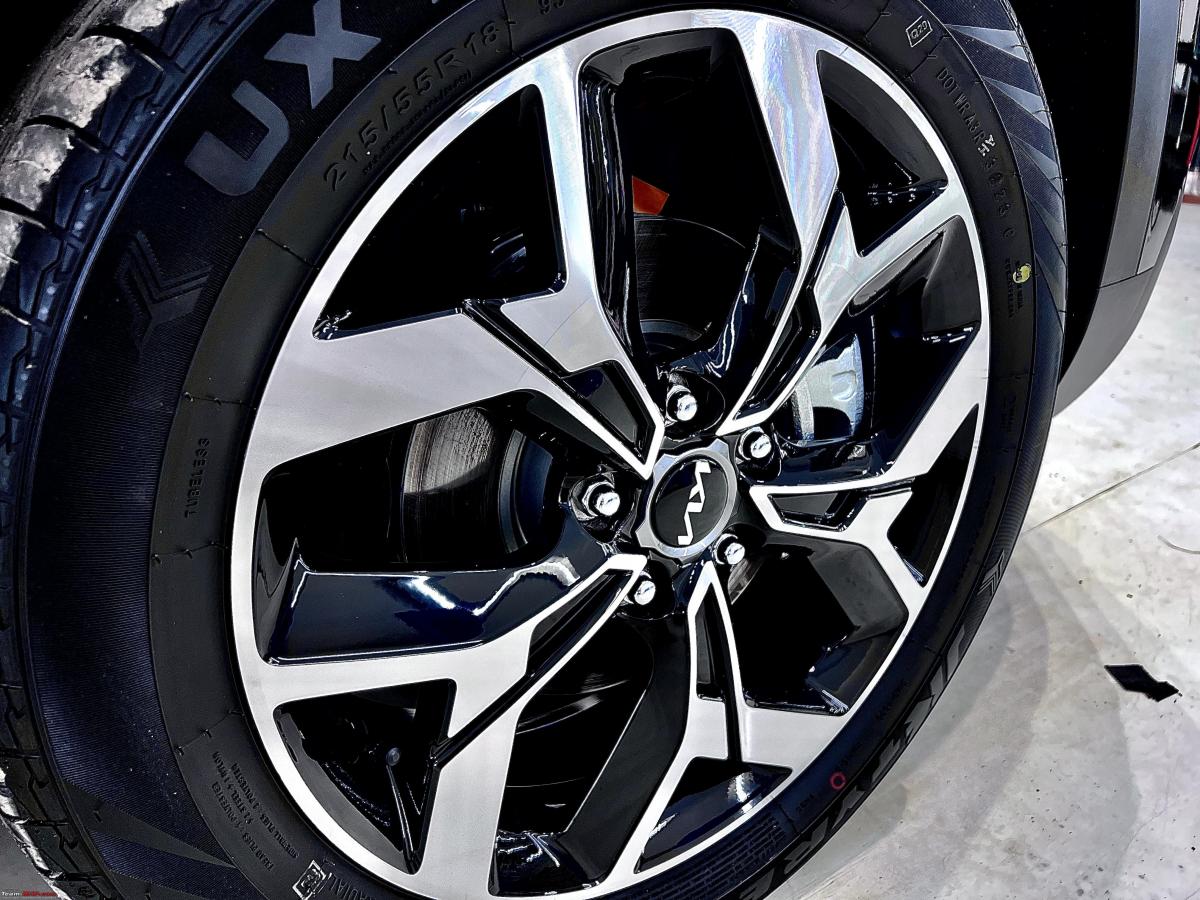 Twin exhaust pipes, real ones:
Tail lights look good to me, especially when its dark:
 A picture post SystemX Ceramic coating. Credit goes to Anish from 5C car care. It took me 30 mins to realise how devoted he is to his work. I initially thought the reviews were all paid when he was talking to me face to face and then suddenly noticed a paint defect on my dirty car. 'Fraud', I said. But then I spent the next 9 mins looking at the spot from 9 different angles and finally could figure out a small shift in paint quality. It's on both rear doors, at the same spot so must be a thing from the factory. I'd appreciate if nobody asks me where is this until I go back to him for my first car wash post ceramic. Anish's work is 5/5 – it's one of those places where I'd go anytime without asking prices:
Another picture from Anish's workshop: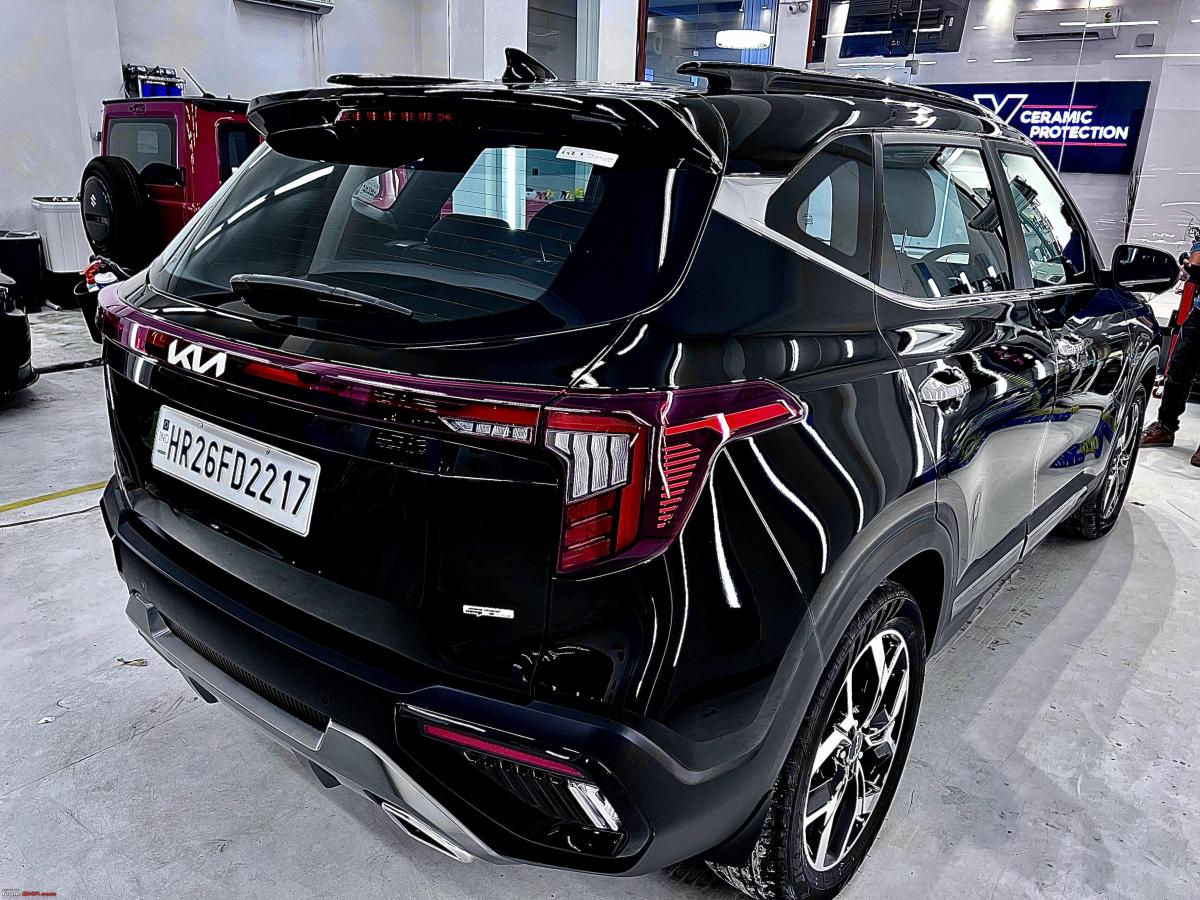 Interiors:
Let me start with the obvious first; Yes, I do like the black interior theme. I've never had a problem with my Ecosport (also black interiors except the roofliner). I've always desired black interior dashboard since I first had an opportunity to experience the facelift Compass.
The roofliner is also black. I, again, like it. That said, can completely understand that it could make some people feel claustrophobic.
The headroom is limited. My height is average at best and even I can sense it. Anyone who wears a turban and / or is 5.9+, please do take a test drive before you book one.
Easy to find a comfortable driving position. If there are people on this forum who appreciate electric seats without a memory function, please share your views and explain why. I cannot find a reason. Skoda is following this trend too, so there must be something coming up in the research reports.
Screens are sharp, and the brightness auto-adjustment works as good as it does on any flagship smartphone!
Most of the interaction points are backlit. Except the ORVM adjustment buttons, and the sunroof controls. If Seltos has auto-dimming IRVM with buttons that are backlit, Seltos also deserves backlit roof control buttons.
There is no way to adjust the backlight for the buttons separately though. If you are like me and like to keep the buttons backlit to the max, you'd not be able to do it without the screens blinding you. I wish Kia had this adjustment separated.
On the steering controls, move knob up for volume up, and move it down for volume down. I'd expect the track change knob also to follow same direction but for some weird reason it doesn't. Direction up = volume up = previous track. Direction down = Volume down = Next track.
I like ventilated seats. If you stay in a hot / humid location, you may like them too.
Driver's view. I increased screen brightness for this shot from my phone. When you adjust screen brightness is only when you can adjust backlight for all the buttons. No separate dimmer adjustment.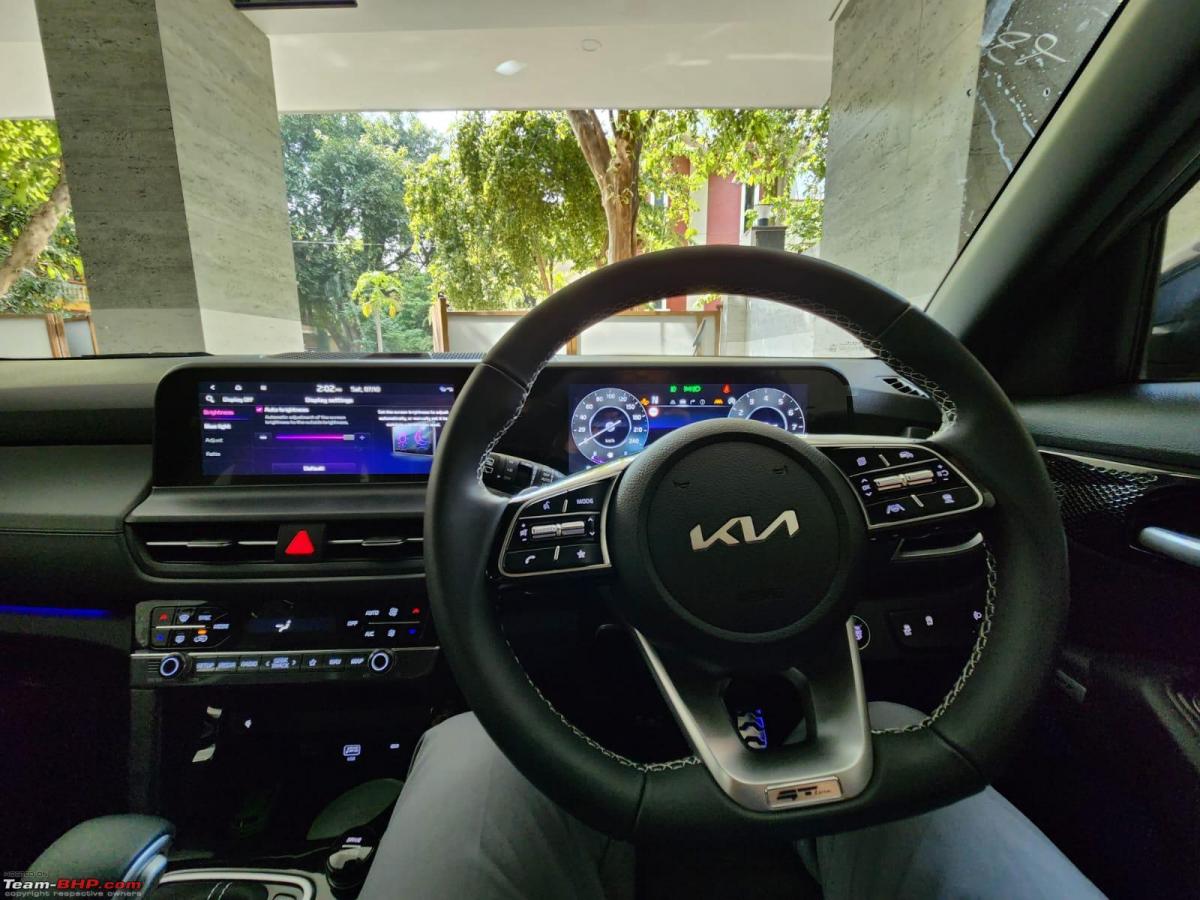 Front cam shows my Ather in this view. Quality is good, and parking sensors are calibrated well too: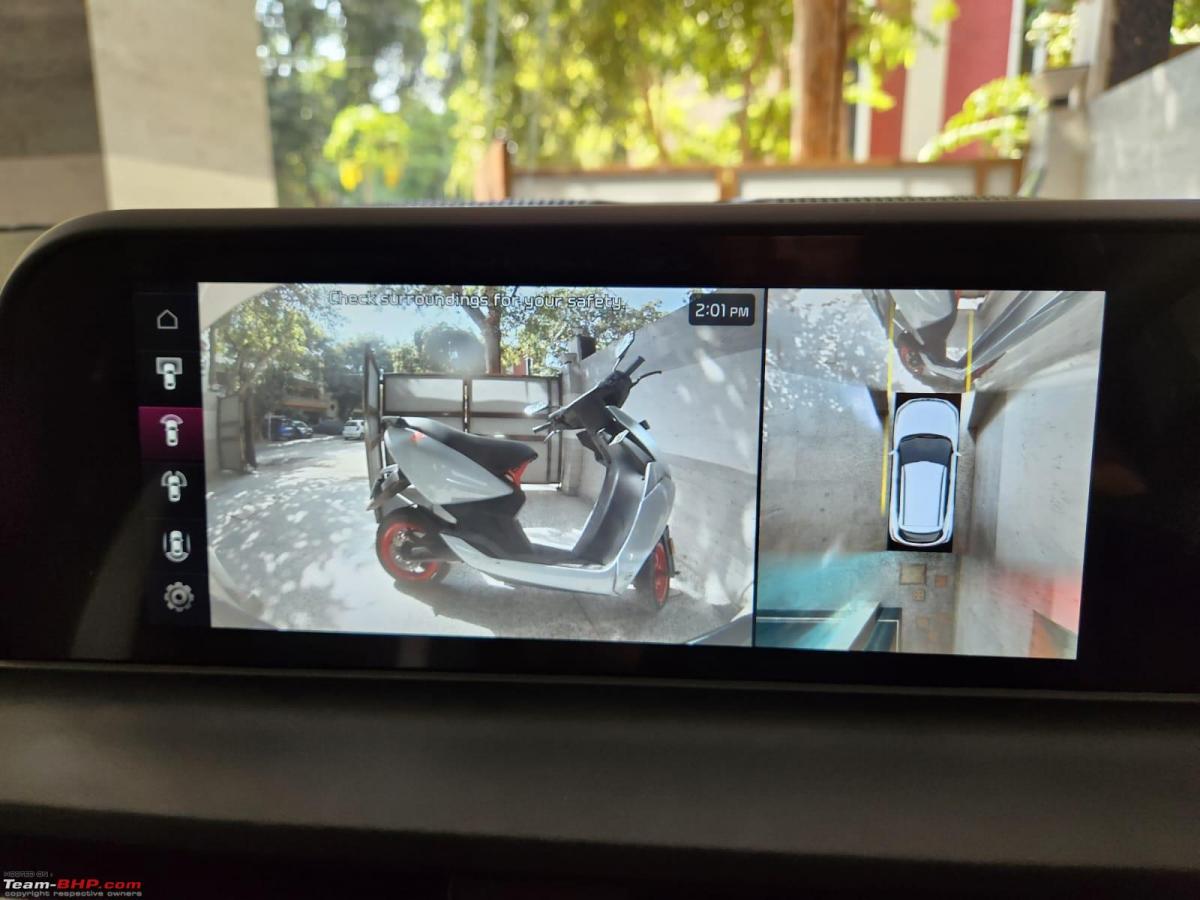 Sunroof controls are not backlit. Or so dim, I cannot notice it:
Sharp instrumentation! Initially I was overwhelmed with so much info, but now used to it. No way to turn off idle engine stop permanently. Notice I've switched off front collision system, and lane keep assist. Yes, you can notice the mileage too, I never drive to chase this number. Auto-headlights are on in this shot. So is auto-hold, which can not be engaged in R (rightly so) and is not required in P. The screen is brighter and sharper than one would expect. But the frame rate / animation could be more fluid when you switch between driving modes:
Engine & Gearbox:
Short version is that the engine + gearbox combination is quick! It's easily one of the fastest cars on the road.
I have mentioned in one of my earlier posts that the gearbox is jerky at low speeds. Allow me to take this back. As I now step into the 1K+ kms mark, I do not notice shifts 90% of the time (when accelerating linearly). You'd sometimes notice a shift from 2nd to 3rd gear, and expectedly when you kick down the pedal for overtakes. That said, the gearbox has no telepathy powers in any mode. I find the Eco mode useless for me, I first need to adjust to a turbo lag before I can afford to shift early to save fuel.
This is easily one of the fastest cars on the road. The car crawls at ~6 kmph as you slot into D. People like me who are new to EPB and autohold may jerk the passengers a few times initially. Note I say initially. Once you get the hang of it, it's as smooth as if you are controlling a clutch yourself. Initial acceleration is okayish, not slow. Once you move into 3rd, the car responds fairly quickly to your acceleration input. Engine is as silent as my Ecosport's Dragon at lower RPMs, and beats it on all aspects of NVH at idle and at higher engine speeds.
On open roads, I find it best to move the gearbox to S. There is no lack of power in D, I do this only because I like to keep the engine above 1800 RPM. Once in S, you'd be smiling. In fact, coming from an NA engine the power / torque curve kind of overwhelmed me when I first experienced the acceleration. Compared to Ecosport, the torque is sudden and there's a decent acceleration even post 110 km/h. Again, the Ecosport is no slouch but the experience is day and night for me. From slotting my Ford into 3rd at 30 and then taking it to 130 in the same gear, to now a turbo engine that has a step change in acceleration post ~1600 rpm, I love them both.
Paddle shifters are quick. Use it in D mode and the gearbox would revert back to auto if it senses linear acceleration for ~6 seconds. If you use paddles in S, you'd be in manual mode until RPM drops too low. At any point, long hold the right paddle to move back to auto mode. Paddles are immensely helpful for overtakes.
NVH levels are great. Tyre noise is higher than you'd expect in a car of this price. I felt even the Ecopias on my Ford are slighly better in this regard (and only in this regard I hope).
Suspension and Brakes:
Suspension is overall better than my Ecosport. No surprises here. But I'd like to mention that the ride quality on the Ford gets exponentially better when you pick up speed. The difference between 15 and 70 km/h on the Ford is huge. But on the Kia, not so much. If I'm driving at 70 km/h on a road that has rumble strips every now and then, I'd actually prefer my Ecosport.
I understand the car has disc brakes on all four wheels, but I still find the braking feel, feedback and performance to be as good or as bad as a car with only two at the front. More on this as I continue to drive.
ADAS:
A good 80% of people may not use 80% of ADAS features in 80% of their time driving.
IMO, the front and rear collision avoidance systems are better turned off unless you are in the top 5% of the most disciplined drivers in India. If you come too close to another vehicle thinking you'd be able to squeeze in, the ADAS may surprise you. For the latter, you'd find it too sensitive for Indian conditions.
The only real use of ADAS for me is blind spot warning system, works flawlessly and will not intervene with braking unless you are taking your car out from a parking lane (and then it will, which I didn't know).
The rear cross traffic warning and auto-braking would get auto enabled when I restart my car. Can someone confirm if it's specific to my car?
Car likes a break more than my colleagues on notice period. I have this warning popped up everyday without fail, sometimes 2-3 times in a 14 kms drive. And no, there is no way to turn it off, at least in my car. The only option under DAW is to turn on / off an alert when lead car departures.
As part of ADAS features, you also get High beam assist, which is sensitive to street lights too. So in city conditions or well-lit highways, it wouldn't engage high beams.
Camera feed on instrument cluster is a good feature. I like it.
All of us should be aware that a fully attentive driver is required at all times even when using ADAS. In this car, I have experienced the system could at anytime fail to read the lane lines even when they are clearly marked. If I can see them without my glasses, the camera should too. So if you intend to use lane follow, do take note. I have only used these features to test them, very cautiously. Now that I've seen how they can work and how they fail, I suspect the use case for me might reduce.
Summary of what I like:
Looks good. Inside out. Good quality interiors.
Loaded with features.
Good engine + gearbox combination.
Summary of what I do not like:
Light build quality feel when opening / closing doors, espc with outer door handles. Safety aspect.
Small things Kia could have done better like adding backlights for ORVM adjustment buttons, ORVMs could have been extra convex at the outer end, backlit sunroof controls, request sensor at both front doors, memory seat profiles (if not buttons) that could have synced with infotainment profile. I also believe this car has all the hardware that would be required to add auto-parking features too, Kia must be saving it for their ADAS 3.0.
I'll try and update this thread again with more observations. Meanwhile, happy to answer specific questions.
Check out BHPian comments for more insights and information.
Source: Read Full Article