Electric vehicle sales in India | 2 companies command 98% of the market
Audi leads the luxury EV market in terms of offerings with a luxury EV market share of 48%
BHPian pqr recently shared this with other enthusiasts.
FY 2021-22 Indian EV market analysis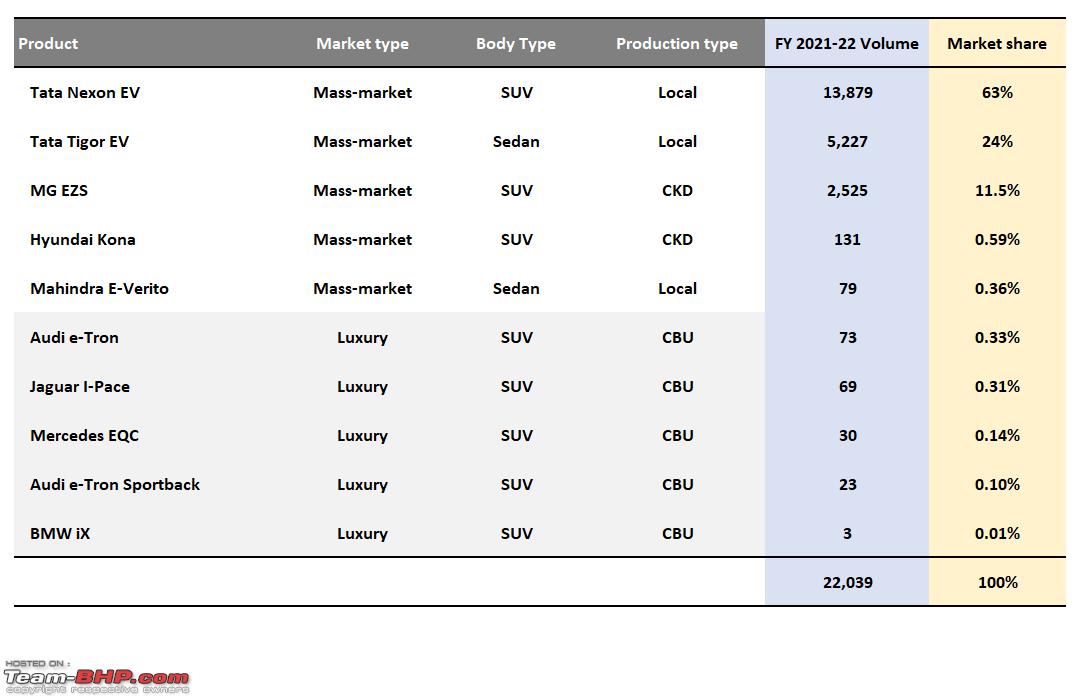 Market
EV car sales reached 0.7% of total car sales in FY 2021-22
Tata and MG together command 98% of the Indian EV market
Tata Nexon EV was the best-selling EV in the country with a 63% market share
Tata Tigor EV with an all-new heart transplant (battery and motor) captured a 24% market share
CKD MG ZS EV is the third best-selling EV with an 11% market share
Luxury EV accounts for 0.9% of the total EV market
SUV command 76% market share and the rest 24% are sedans
Manufacturer
Tata commands 87% of the total EV market, followed by MG's 11% share
Hyundai and Mahindra with one product each remained fringe players
Audi leads the luxury EV market in terms of offerings with a luxury EV market share of 48%
Production type
87% of cars were produced by Tata Motors and Mahindra locally with imported Chinese cell
12% of cars came through the CKD route
Rest 1% came as CBU import by the luxury car manufacturers
Effectively it remains unfavourable in terms of foreign trade till India starts making EV cells under the PLI scheme
Still, there will be huge dependence on imported minerals or processed input material
GST support by the Government
Since 2019 GST council has reduced the GST incidence on EVs to 5%, irrespective of vehicle length
This has bridged the higher price gap between ICE and BEV vehicles in India
GST support in the FY 2021-22 is estimated to be ₹ 891 crores
Imported luxury cars account for 9.4% of the GST support
Data source: SIAM library and Luxury car sales analysis.
Here's what BHPian ninjatalli had to say on the matter:
Excellent start to reports/analytics on the EV market of India. Looking forward to more such reports/details from all in the future.

The language in the below sections needs to be corrected – similar to the first bullet point, the % figures quoted cover only EV sales in 2021-22 and not the total EV market. The relevant bullet points (e.g. the ones in bold) or the heading need to be corrected accordingly.

If we look at the total Indian EV market, I'm sure Mahindra (with its huge head start with its eVerito product) would have a more larger share; and so will others too.
Here's what BHPian drift87 had to say on the matter:
Also, note that out of the total volume of EVs in the Indian market, three-wheeler constitutes around 65% and 25% are held by the two-wheeler category. The remaining 5% is a mix of everything else including cars, this segment is just waiting to explode.
Here's what BHPian rd18 had to say on the matter:
Tata is certainly in an advantageous position since "the early bird catches the worm".

Credit to them for changing the mindset of people that EVs can run powerful cars like Nexon. It was their best calling car and an SUV which attracted customers.

Previous EV launches like bikes and cars were very basic. Never a full-fledged heavy SUV was seen running on EV.

With Nexon EV Max and Tigor EV, they keep their range as #NewForvever.

So many have upgraded their Nexon EV to Nexon EV Max after launch.

And I didn't know all abbreviations, so this is what they mean:

CBU – Completely Built Unit (high custom duty on import)
CKD – Completely Knocked Down (lower custom duty on import, assembled locally).

Source
Check out BHPian comments for more insights and information.
Source: Read Full Article