Brazing workshop, a drive in Mercedes & a repair job on my Alfa Romeo
I had enrolled in an activity where folks from a nursing home were taken for a little tour in classic cars.
BHPian Jeroen recently shared this with other enthusiasts.
Last Saturday I participated in my third "Brazing" Workshop. I have written about brazing before. It is a very useful technique, you can use it to connect almost all types of metals and or alloys. And when done properly it will give similar, sometimes better, results compared to various welding techniques.
The last workshop was held in my garage, which proved to be an interesting background to such a workshop.
We had the same teacher, Wiel. This time the workshop was in a magnificent location. We were in an old monastery that had its own steam-generated electric power! Pretty cool those monks and priests!
A few images of our surroundings for the day:
One of two steam engines: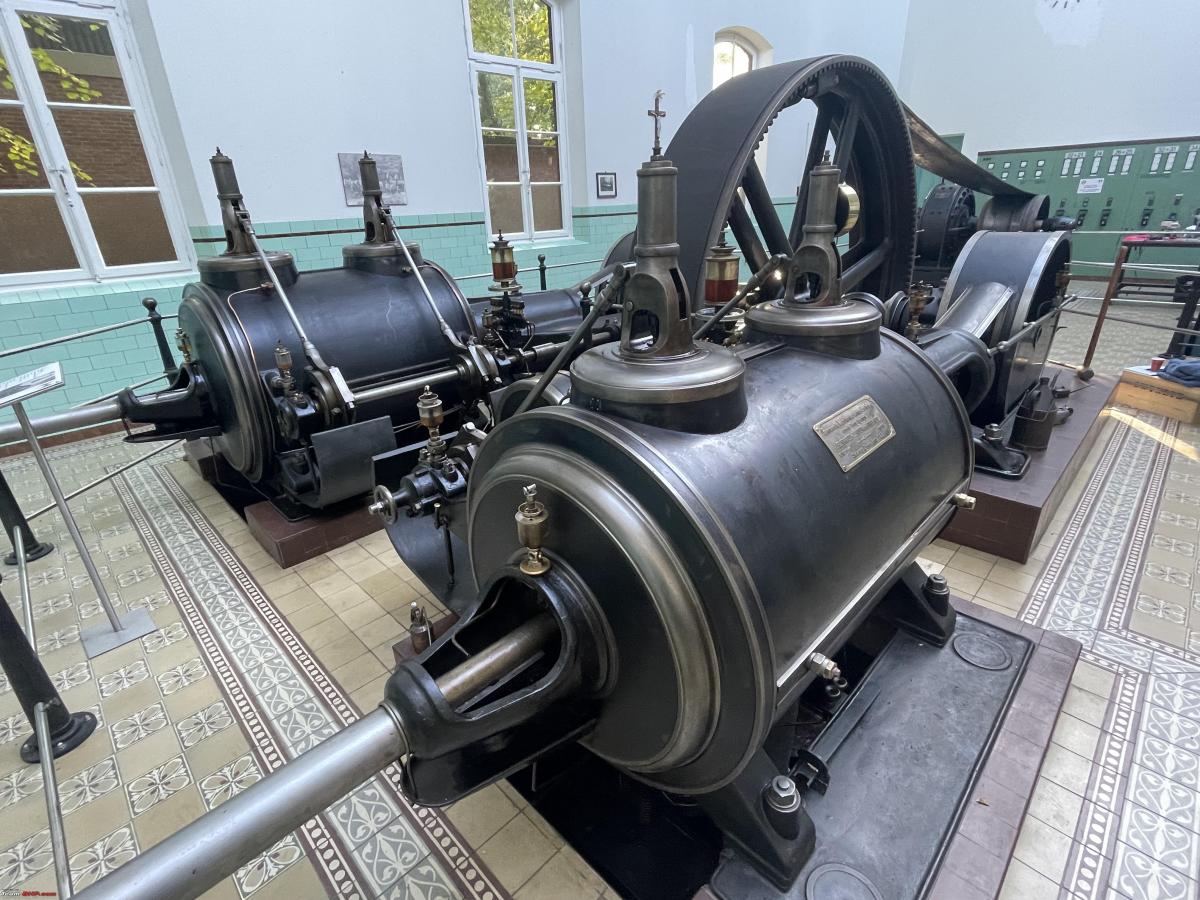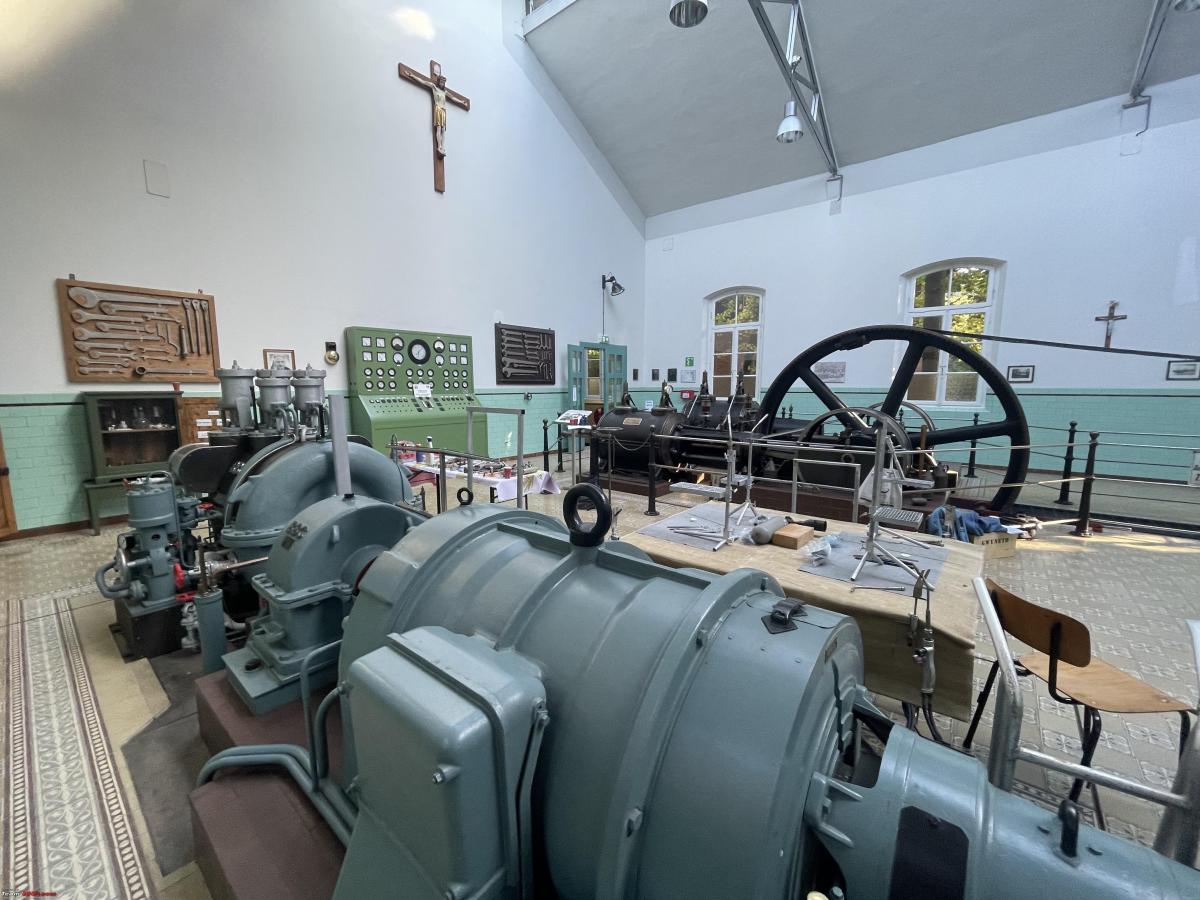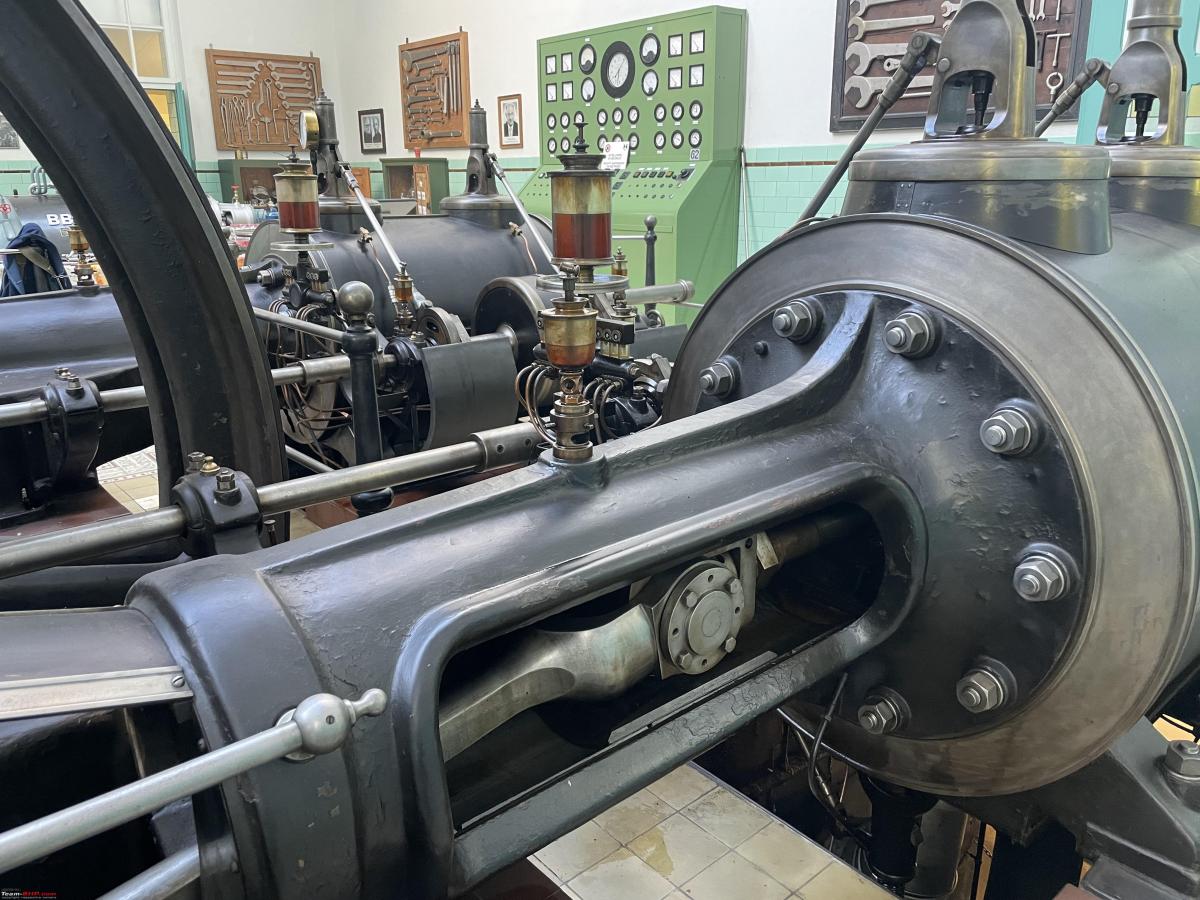 Control panel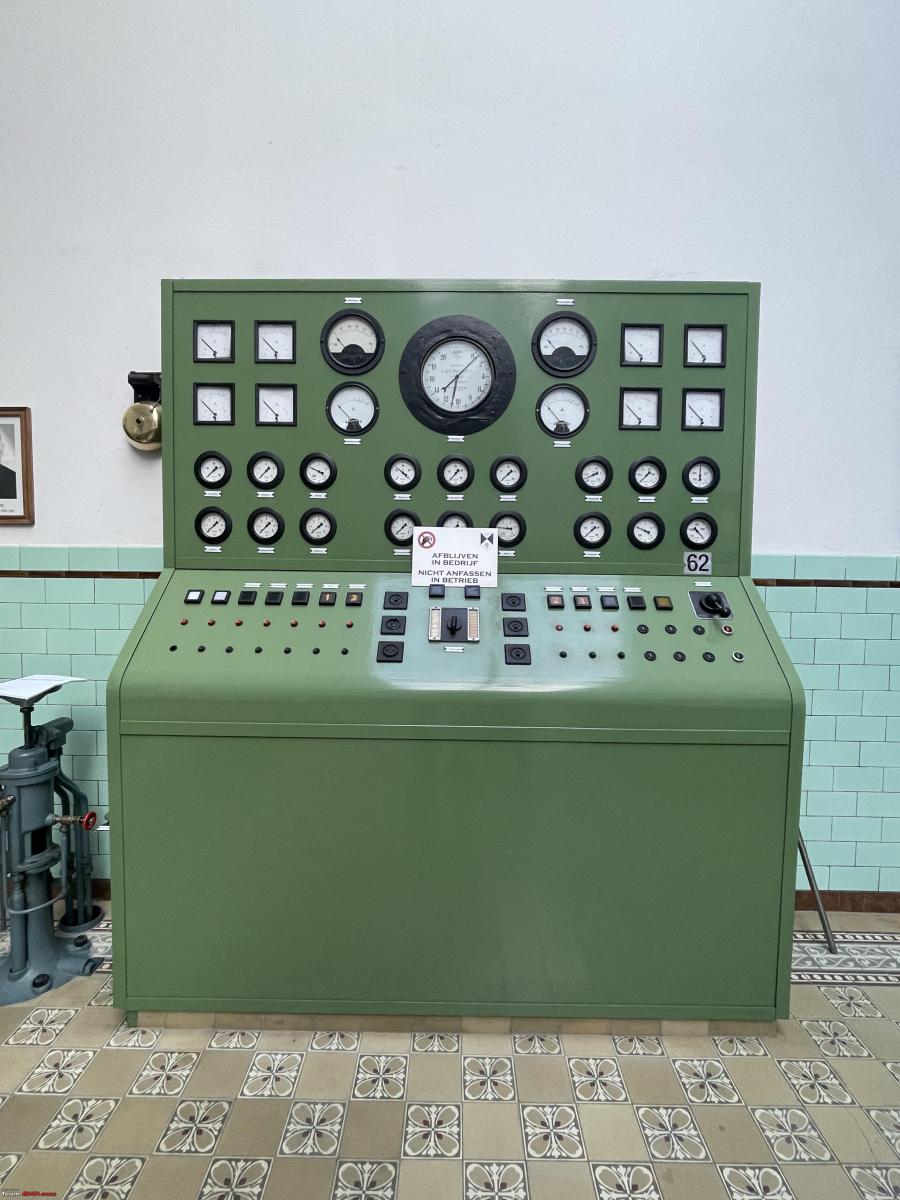 Some interesting tools, a little larger than what I have in my toolbox.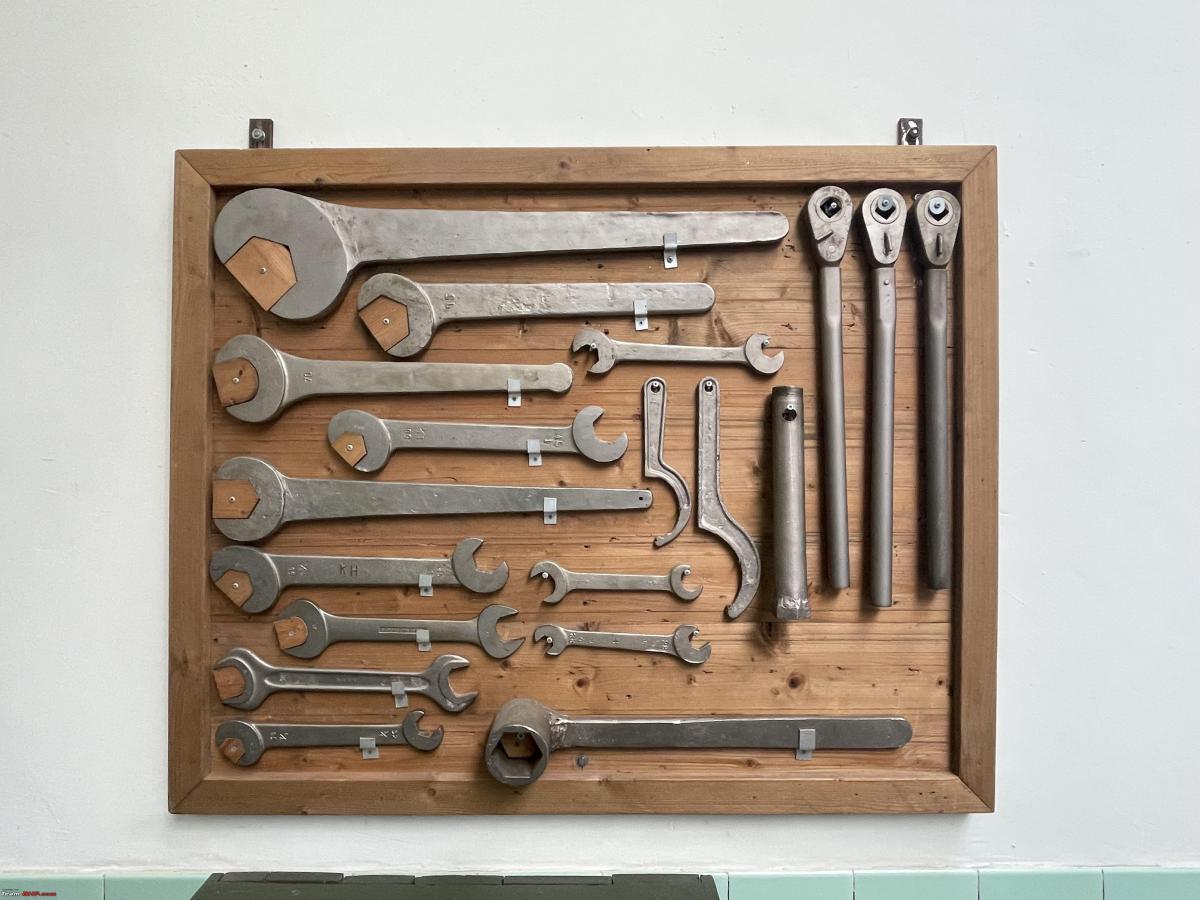 Electrical control panel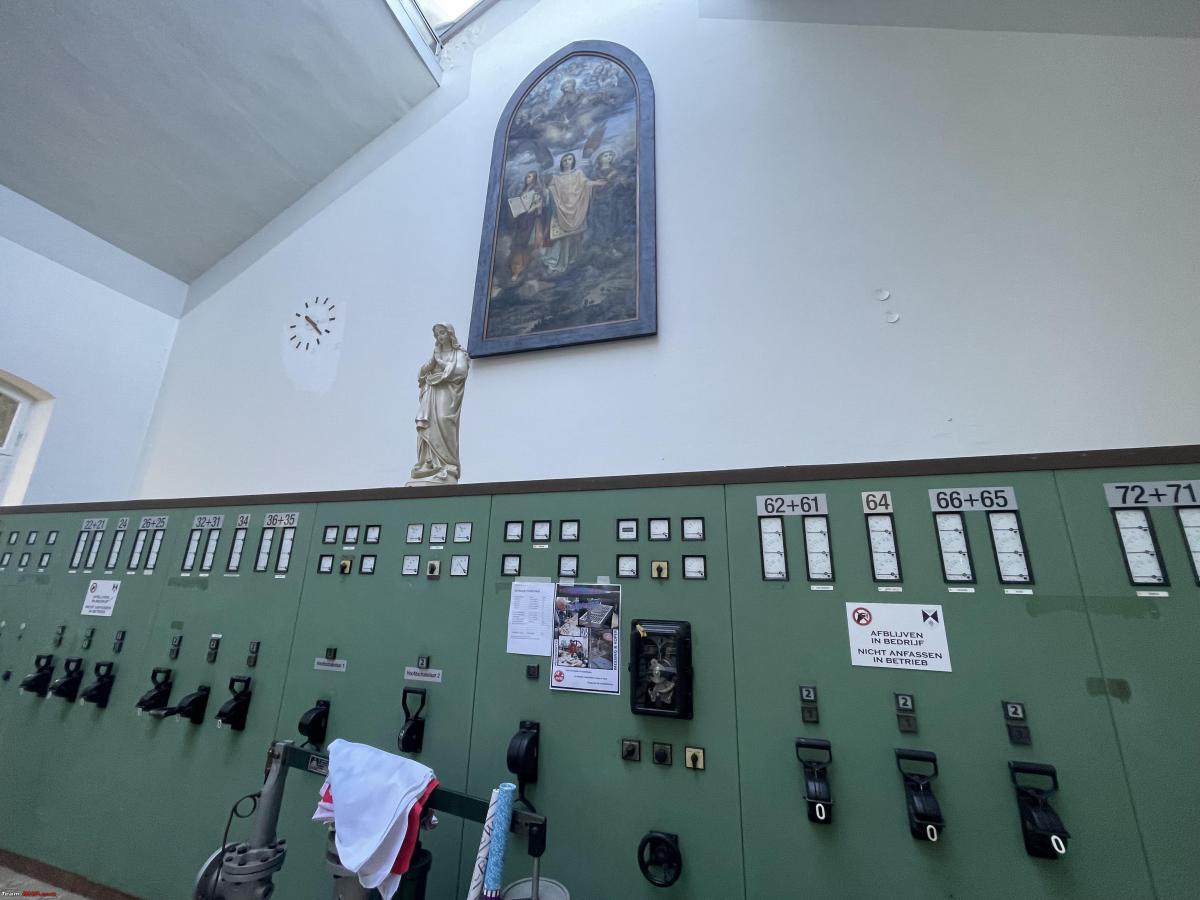 Very interesting to walk around. Wiel knew a lot of interesting details and background to this place. Very interesting.
But we were here for our workshop brazing!! So we did quite some brazing.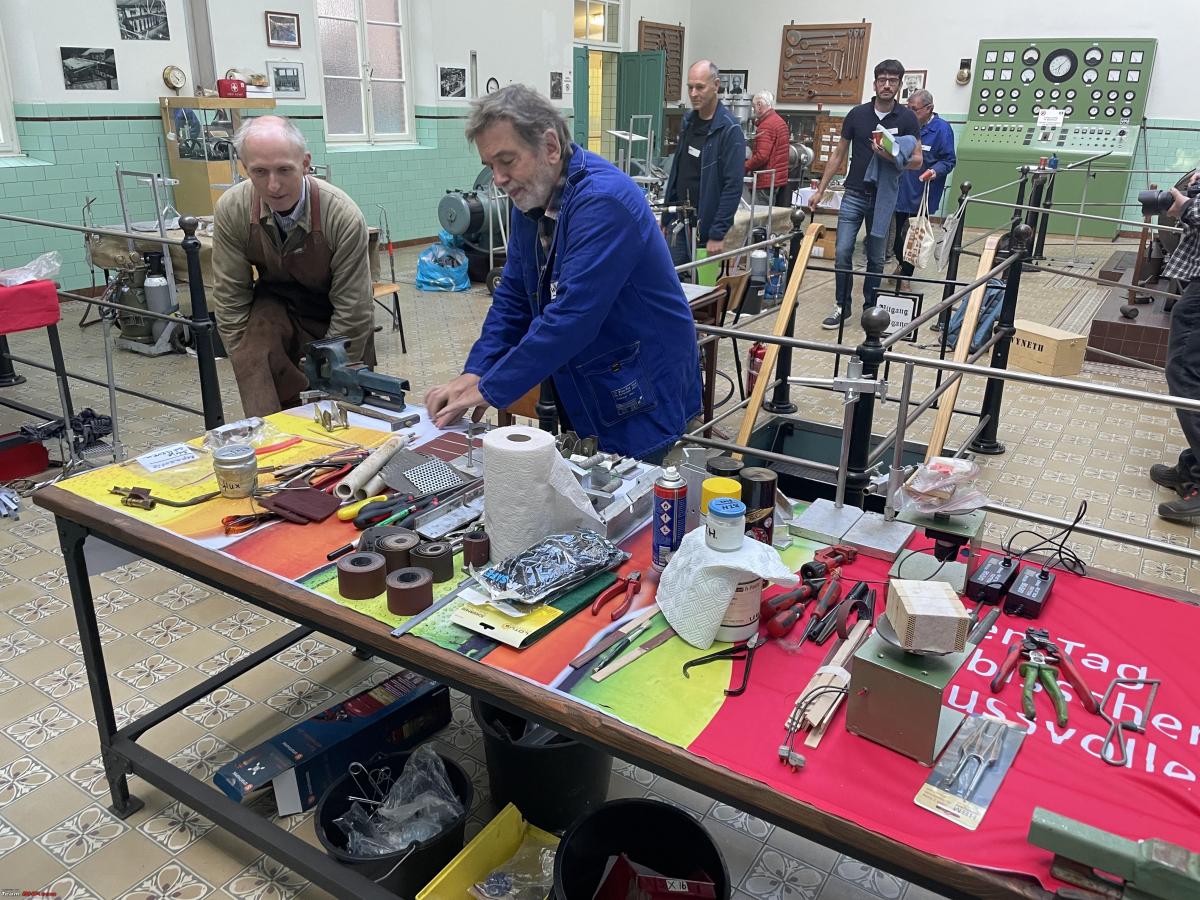 Yours truly in action, image courtesy of my friend Ruud.
I managed to learn a couple of new things. The four-stroke Scuderi Model Engine I am building is going to require some brazing of various parts in the months to come. All ready for it!
On Sunday I participated in a nice little drive with the Mercedes W123. I had enrolled in an activity where folks from a nursing home were taken for a little tour in classic cars. I have done this several times. It is always good fun and very rewarding. We only drove 60 kilometers in total with a coffee stop in the middle. Even so, it took all day. You don't want to be in a hurry with these elderly ladies and gentlemen of course.
There were about 20 classic cars and a few more regular cars to help out, bringing the wheelchairs, Zimmer frames nurses and so on. All done by volunteers.
As I have mentioned earlier, my Spider will be going back to Marc on the 1st of November to figure out the oil problem. During our tour of Scotland, I also felt the Spider pulling to the right. Marc had already tried to fix it, but it was still there. So I thought I would have another look myself.
The car has been aligned perfectly by Marc, and the tires and rims are in excellent condition and fully balanced. I replaced all four discs calipers and brake pads last year, including some new brake lines. So it is difficult to understand why it would still pull to the right. It also does it in a bit of a particularly weird way. I have had this before. Ultimately we managed to trace it back to a stuck ball joint. Because it was stuck, when you brake, the car dips at the front and the right wheel was pulled in a tiny bit due to the stuck ball joints.
So time to put the Spider on some axle stands and check a few things: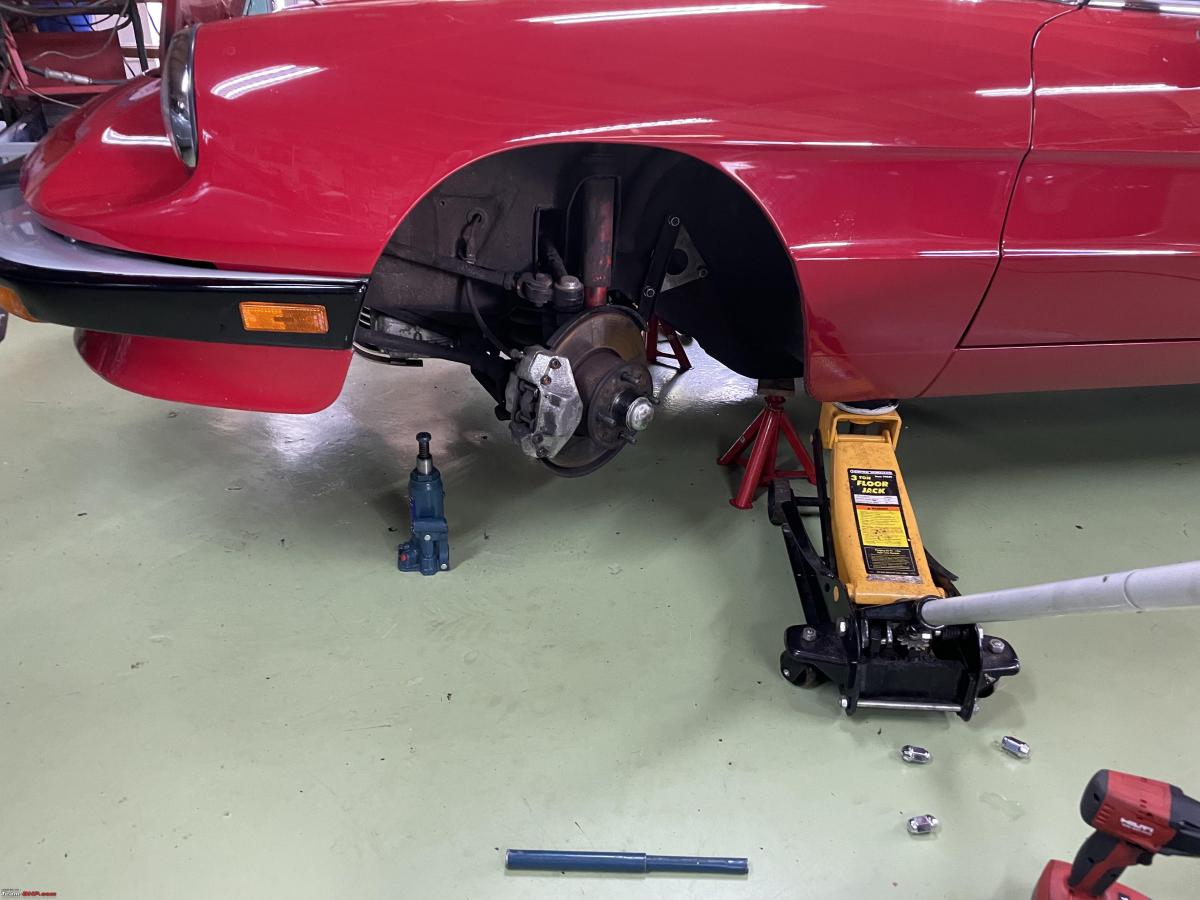 I popped the ball joints with my special little tool: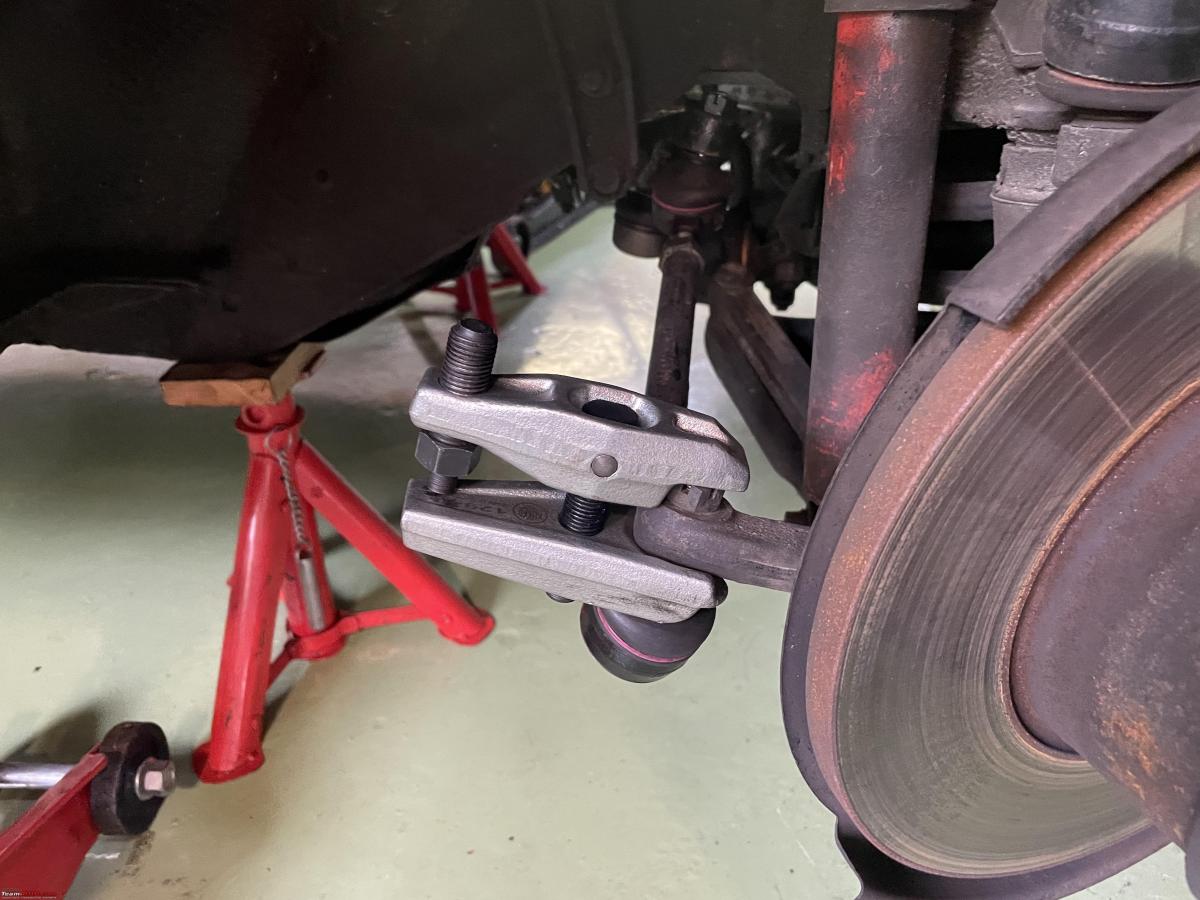 I kept the castle nut on the stud to make sure I didn't lose it: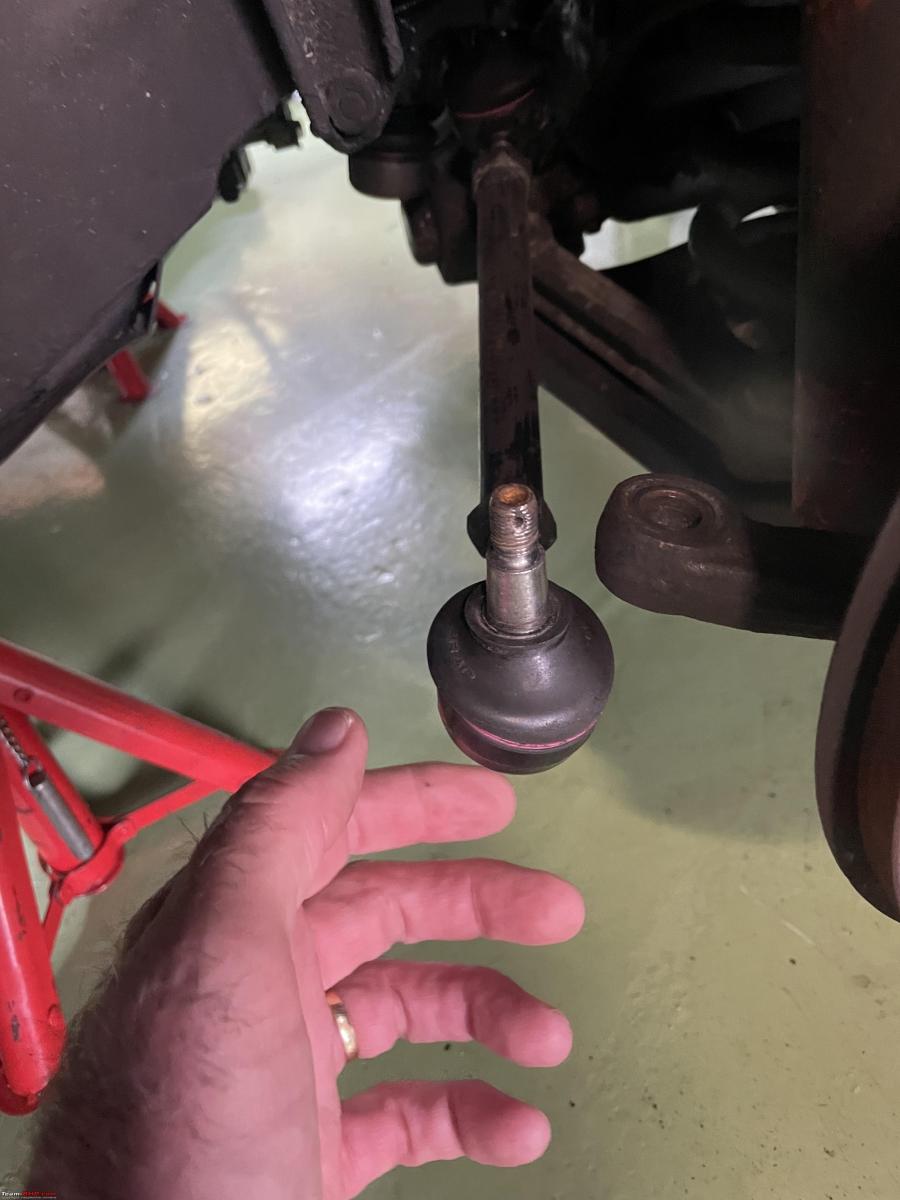 I checked everything as best I could. I could not find anything. Until I noticed this. Here you see the stud of the right ball joint in its two extreme positions.
It looks like it might not be able to rotate sufficiently when fitted. However, when I put everything back together the effect was not present. It's difficult to judge these angles with the wheel removed and the suspension completely extended. We will need to recheck this when the Spider is back with Marc in a couple of weeks.
Put the front wheels back onto the Spider and tightened up my chrome lug nuts with the specified amount of torque. We have a recent thread on the forum that emphasises why you should always use a proper torque wrench and the proper torque setting when working on lug nuts!!
Also, the window wiper reservoir had started leaking again. You might recall I fixed this quite some years ago. Unfortunately, due to what looks like the ageing of the glue I used and mechanical wear due to stupid Italian design it developed two leaks again.
Technically, it is an MOT failure! Regardless, I wanted it fixed now. So I went to my local DIY centre and got some proper waterproof leak sealant. Applied it liberally to the out- and inside of the reservoir.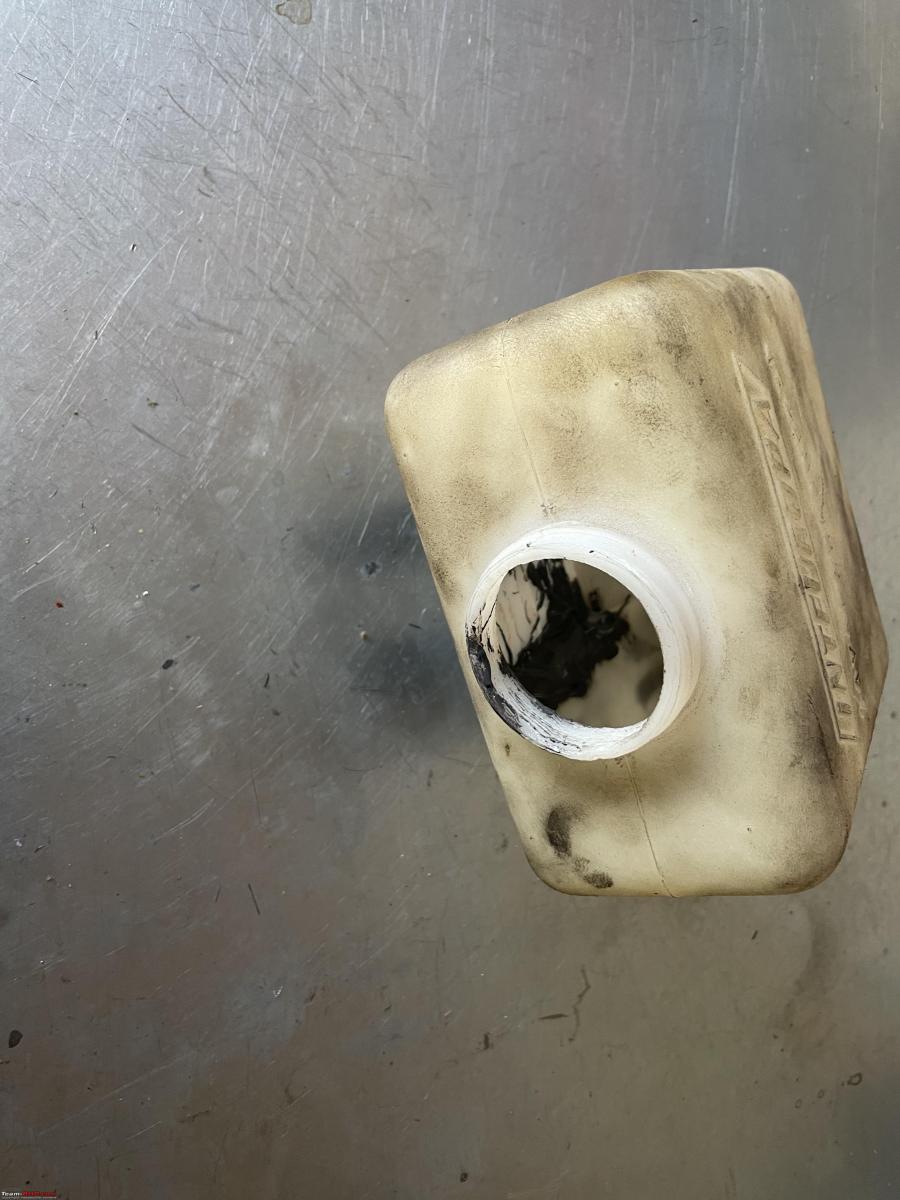 Part of the problem is the stupid V-shaped bracket that holds the reservoir. It is metal onto some pretty soft plastic, so a leak waiting to happen. I got one of my old bicycle's inner tyres cut off a few pieces and used it to wrap around the sharp metal bracket.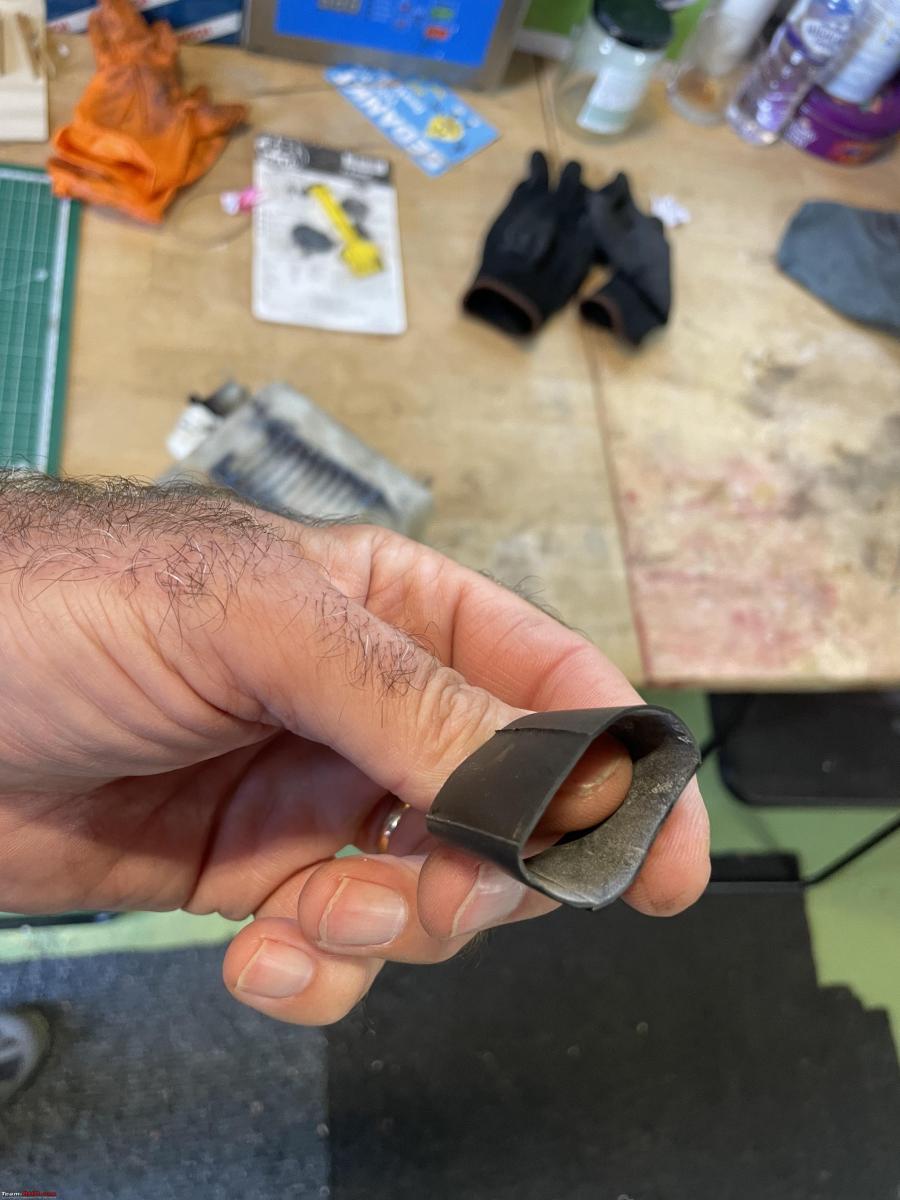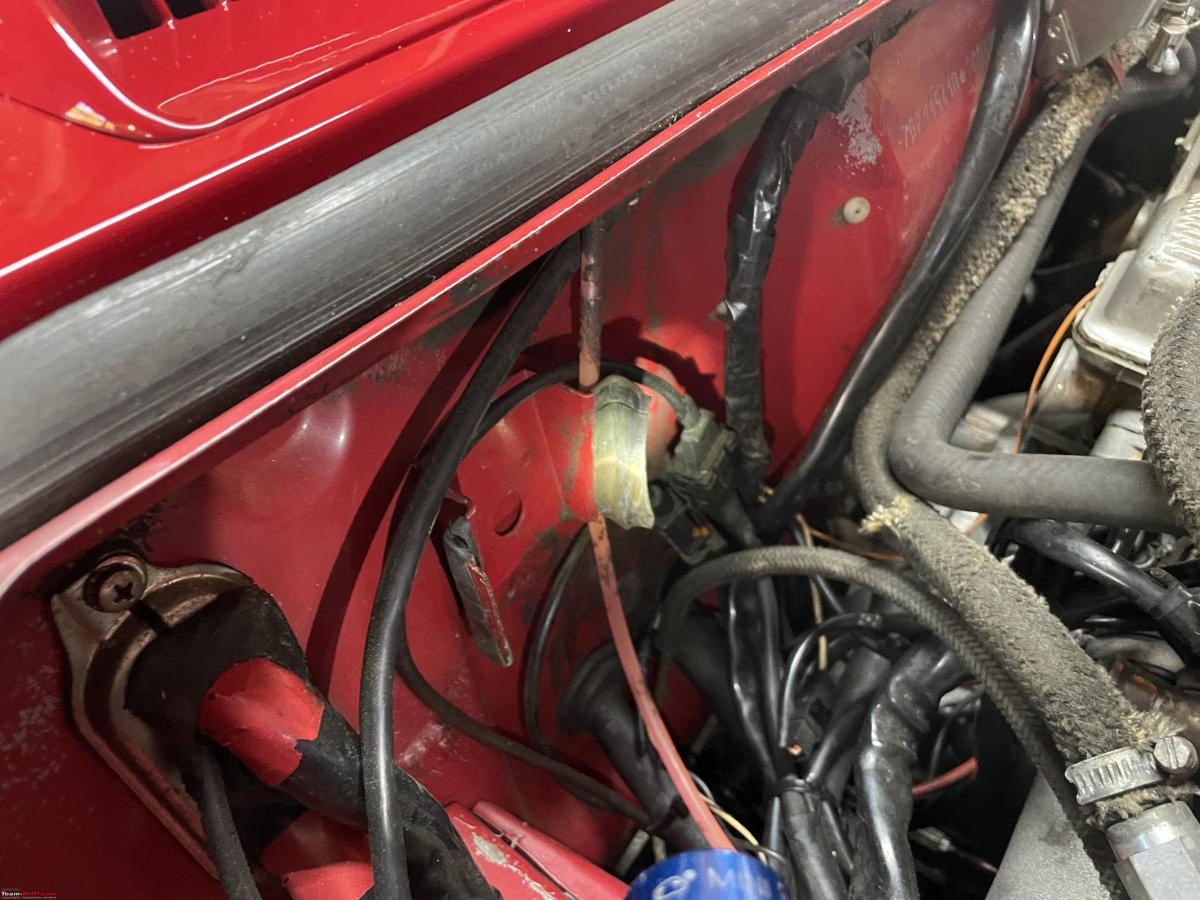 We will have to see how long it will last. Fingers crossed!!
This coming Sunday I am helping my good friend Berndt at the BritishCarClubDay.
Berndt has collected hundreds if not thousands of folders and brochures on English cars. He wants to get rid of them, so he has rented three market stalls for us to display and sell all of them. Fingers crossed for that as well. I am not sure how much documentation gets sold at these classic car events.
Irrespective, this is always a very enjoyable event. Mostly about British Car clubs and some commercial traders as well. Good fun, I am looking forward to it.
Check out BHPian comments for more insights and information.
Source: Read Full Article