A Few Surprises in Autoweek's Top 10 Motorsports Stories of 2020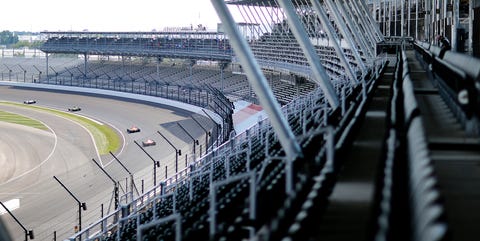 Before we turn the page to 2021 and say goodbye to COVID-19, let's take one final look back at the top-10 motorsports stories of 2020.
It was an unforgettable year, and sometimes even for the right reasons.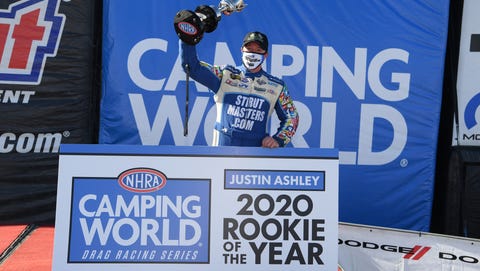 There's nothing that unusual about a new title sponsor for a major racing series. Happens all the time.
However, rarely does it happen midway through a season and involve lawsuits slapped on a long-time sponsor for failure to live up to that sponsor's contract obligations.
That's what happened in the NHRA in 2020, as the series sued parent company Coca-Cola and its Mello Yello brand in September over a $2.86 million missed payment in a deal that the NHRA said was supposed to run through 2023.
The lawsuit also alleges that "Coca-Cola has seized on global tragedy, the COVID-19 pandemic, as a pretext to claim a "breach" and "terminate" the sponsorship agreement early to save money. But neither the Agreement nor the law allows Coca-Cola to do so. This action seeks to hold Coca-Cola to its contractual promises."
Coca-Cola and the NHRA had been partners since 2002. Mello Yello had been the series title sponsor since 2012.
In October, Marcus Lemonis and Camping World swooped in and signed a multiyear title sponsorship agreement to replace Mello Yello. That agreement became effective immediately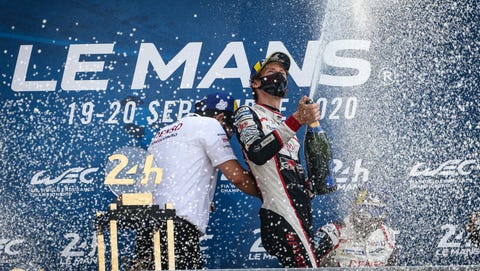 It doesn't get much more 2020 than this, as the world's largest sports car race was held without fans in the grandstands.
The 24 Hours of Le Mans, which traditionally brings in upwards of 400,000 fans (the unofficial record from 1969), showed an official record-low attendance of zero in 2020 due to coronavirus concerns.
The race was moved from June to September in hopes that local protocols would allow for fans in the fall, but that move was to no avail. So, if you missed this one in 2020, you weren't alone.
Oh, and this year's winner (for a third consecutive year) was a Toyoata TS050 Hybrid fielded by Gazoo Racing. This year's winning drivers were Sebastien Buemi, Brendon Hartley and Kazuki Nakajima.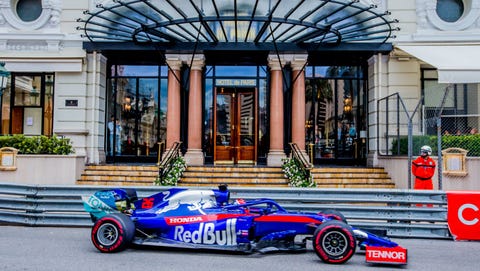 For the first time since 1955, there was no Monaco Grand Prix. Arguably the crown jewel of the Formal 1 season, Formula 1's leg in racing Triple Crown (along with the Indianapolis 500 and 24 Hours of Le Mans) was cancelled over COVID-19 concerns.
Few series took a bigger hit to its schedule than F1 in 2020. Also axed from the schedule, mainly due to travel restrictions within host countries, were races in Australia, Vietnam, China, the Netherlands, Azerbaijan, France, Singapore, Japan, the United States, Mexico and Brazil.
The 78th Monaco Grand Prix is scheduled for May 23, 2021.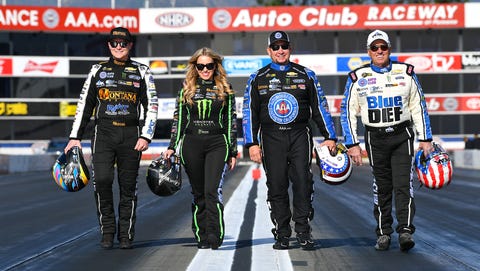 When the face of a racing series opts out, it's big news, and that's exactly what John Force did in 2020.
Force, a 16-time NHRA champion in Funny Car, raced in the series' two February events at Pomona, Calif., and Chandler, Ariz., before deciding to shut it down for 2020 when the series restarted in July after a five-month pause over coronovirus concerns. Shutting it down for JFR also meant that 2017 Top Fuel champion Brittany Force, defending Funny Car champion Robert Hight and up-and-coming Top Fuel star Austin Prock would also spend most of 2020 watching the action on TV.
Force, 71, said it was a business decision and not a fear of the virus to take the rest of the year off.
"We had to make cuts everywhere," Force said. "We ran numbers over and over. In our contracts with sponsors we have guarantees. They get social media, certain number of races, certain number of race days, activation at races and other commitments. No matter how I looked at it I couldn't deliver on those commitments."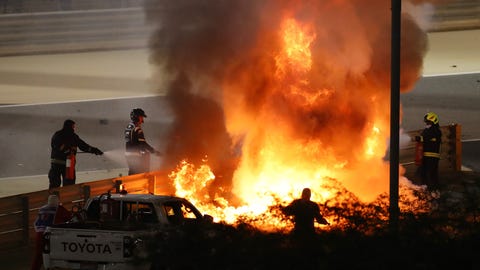 Even though it was the last thing that Haas F1 driver Romain Grosjean wanted, he sure closed out his Formula 1 racing career with a bang.
Grosjean, without a ride for 2021 and likely done in the series after a career that dates back to 2009, closed out his 2020 season a few races early after suffering burns to both hands in a fiery crash in the Bahrain Grand Prix in November.
Grosjean's car was split in two after it collided with a steel guard rail in turn 3 of the opening lap of the race. Grosjean, 34, was able to free himself from his Haas F1 car in less than 30 seconds and escape the inferno, thanks in part to F1 safety measures, driver training, and at least a little bit of luck.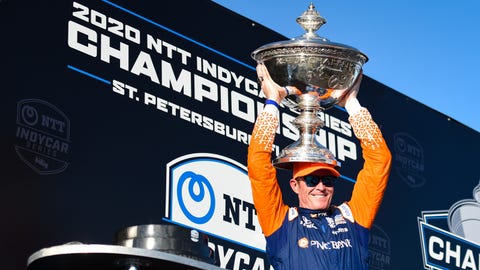 Look out, A.J., here comes Scott Dixon.
With his sixth NTT IndyCar Series championship, Dixon moved to within one of A.J. Foyt's all-time major U.S. open-wheel record of seven titles. Dixon's 2020 season included four wins and seven podium finishes in the 14-race season.
Even more impressive is the fact that Dixon, 39, finished on the lead lap of all 14 races and completed all 1,900 laps contested in 2020.
And for anyone who thinks that Dixon might be too old to win again, consider A.J. Foyt won his sixth championship at the age of 40 and his seventh at 44.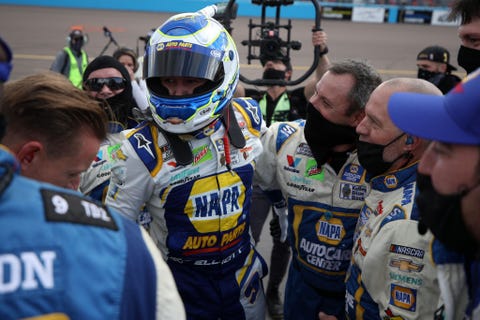 For the third consecutive year, Chase Elliott is the fans' pick as Most Popular Driver in the NASCAR Cup Series, and for the first time he has a championship trophy to go with that title.
Elliott, 25, wrapped up his first Cup championship with a win from the pole in the season finale at Phoenix on Nov. 8.
The championship gives him a leg up on one category over the driver he replaced as NASCAR Most Popular, Dale Earnhardt Jr. While Earnhardt never won a championship, he's still got Elliott in most Most Popular trophies, as he topped that voting 15 times from 2003-2017.
Chase Elliott's dad, Bill, was NASCAR's Most Popular driver on the Cup side a record 16 times between 1984 and 2002. Following that 2002 win, Bill Elliott told voters to vote for somebody else.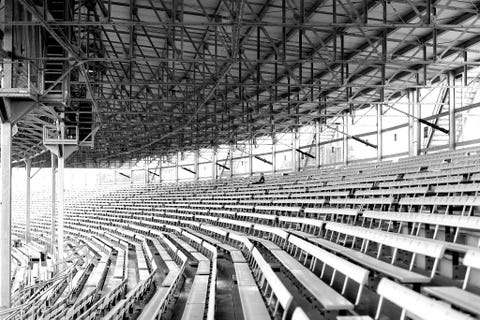 As hard as it is to believe, the Indianapolis 500 fell flat in 2020.
The event had all sorts of momentum starting late in 2019 with the announcement that Roger Penske was purchasing the Indianapolis Motor Speedway in a deal that included the NTT IndyCar Series. When the deal was announced as finalized in January of 2020, it was full steam ahead with renovations to IMS and a fresh look at the biggest race in the U.S.
The COVID-19 pandemic swooped into the sports world in March, and the Indianapolis 500 took a right cross to the chin. Moving the race from May to Aug. 23 didn't work, as fans were still told to stay home. Penske never got to show off, or even complete, his IMS makeover.
There weren't even any balloons, and TV ratings tanked to an all-time low for the race.
Oh, yeah, there was a race and it was entertaining for those who checked in via TV (or through the IMS fence). Takuma Sato won.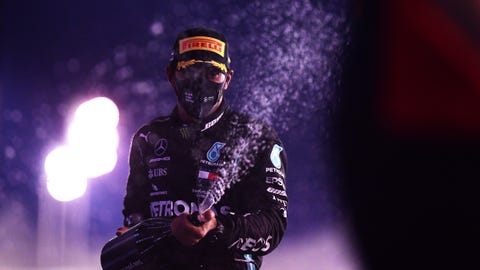 If there was one person on the world's motorsports stage who might say that 2020 turned out pretty well, it's Mercedes F1 driver Lewis Hamilton.
Hamilton had his best season, and that's saying something for a driver fast being recognized as a once-in-a-generation talent. Hamilton won 11 of 16 races, finished on the podium 14 times and sat on the pole for 10 races.
More important, along the way in 2020 he passed Michael Schumacher for most wins in Formula 1 history and tied Schumacher with his seventh championship.
Hamilton, however, also proved that he's not some superhuman or even a machine. He missed one race after, you guessed it, testing positive for the coronavirus.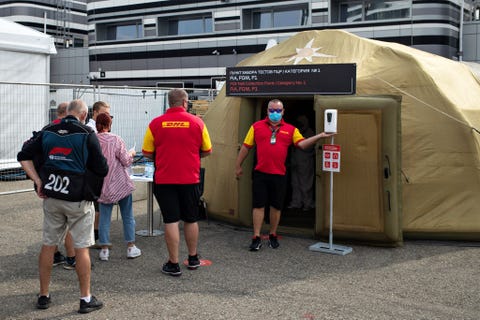 If there's a trophy for being the No. 1 story in motorsports in 2020, give it to COVID-19. And expect COVID-19 to smash it to pieces at the trophy ceremony.
The pandemic cost venues races, turned series into traveling road shows with no fans allowed, infected drivers and caused drivers and media alike to become way too familiar with cotton swabs.
A positive COVID-19 test cost seven-time NASCAR Cup champion Jimmie Johnson a race (he ended up missing the playoffs by just six points in his final year in Cup). Seven-time F1 champion Lewis Hamilton missed a race after a positive tes. Sixteen-time NHRA Funny Car champion John Force stayed home because of the effect the virus had on his business.
COVID-19's resume' for the top spot on this list is tough to beat.
We just hope this, or any other virus, is nowhere near the list for 2021.
Source: Read Full Article